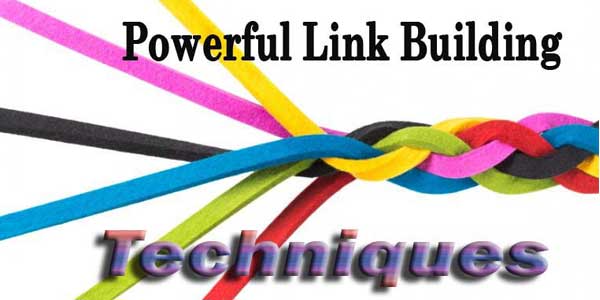 If you are keen to improve the visibility along with rankings of your website, then link building is the best course of action. Whatever may be your domain, link building ensures better visibility with improved rankings. But the key is how do you stumble upon the right method; let us now explore some of the powerful link building methods
The concept of link building is evolving and new changes or techniques are witnessed every month. Links along with content are the pillars on which ranking evolves. Each one of us would love to see their websites ranked on the first page of Google. Your website may be running and active for a few months, but when you analyse the performance you will be in for a major shock. The reality is that you are no longer getting any visitors or clicks.
Internal Links:
With the help of these links you can hop from one page to another on your website. Sadly this is often ignored and provides an opportunity for people to dig deep into your website. With regards to internal linking plan to incorporate any good keyword phrase on the pages and then links it to the home or the inner page. The major benefits of internal links are
Bounce rate of your website is reduced to a considerable extent
Page authority is improved and the source of link carries to the other pages
Business Citations On A Local Level:
If you have a local business, then a local back lining opportunity would be better for you. Great links could be generated and more traffic is expected to flow in whereby people look forward to local searches for business around them. NAP are the three terms you need to be aware for local citations and this stands for name, address and local number.
Links from Yellow pages or Yahoo local create authority for the website and contribute to improvement of rankings in local search results.
Links Incorporated From Reliable Websites:
The internet is flooded with numerous spam sites and Google is committed to fish them out. If you plan to build links from trusted websites, it displays a sense of authority and takes it on top of the search rankings.
But on the other side of the coin, if you build too many links on your website it could be considered as spam. If a business has too many poor links then the performance of the website is going to dip down.
Scoop.It:
It is considered to be a content curation site that has gathered a lot of attention. The users can formulate a topic of their choice and then publish it on any social website. Though there are numerous content curation sites available, but Scoop. It is the best among the lot. To start off the process, you would need to create an account and then opt for the desired topic.
List.Ly:
This is a free website where you can form new lists and share it with the industry experts. The logic is that people love lists and they would love to see the content in that manner. With this website you can create a list as per your preferences. Examples could be a list of the top 10 songs. To start the process you would need to create a free account and then log in. In fact the list ranking is very important and you would need to be in the top 20 to be indexed by search engines.
To conclude, there should be in place a proper link building strategy with a link earning action which is going to churn in better results. This is in relation to better visibility along with rankings.  Personal blogs is another method that you can adopt.
You can pen down all these techniques and the results will start showing in the coming days.