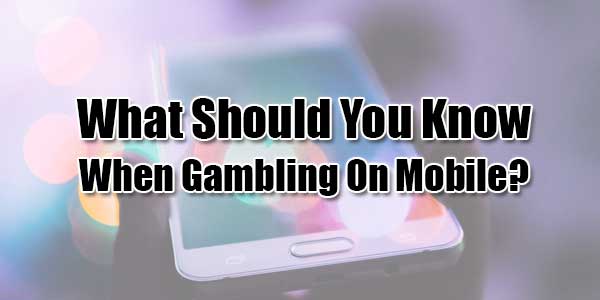 The world is changing, and so is gambling. 100 years ago, gamblers would have to visit shady establishments with undesirable companions to participate in unregulated card games. It wasn't a reputable past-time, and it wasn't always legal. 15 years ago, you would legally gamble from the comfort of your own home, as long as you had a computer. Today, you don't even have to be at home.
Gamble In The Age Of Smartphones:
The advent of smartphones makes it possible to play your favourite gambling games from anywhere, at any time. You could be commuting to work as you enjoy mfortune roulette, play on a live blackjack table in an online casino, get involved in a tense poker game, play a thrilling new slot game, or even watch and bet on the outcomes of live sports events. Gambling is natural in humans, evident in nearly every single historical culture for which we have substantial records. In fact, the earliest evidence of gambling pre-dates even written history. Six-sided gambling dice were unearthed in modern day Iraq, and date back 5000 years to the ancient empire of Mesopotamia.
Today, gamblers have an entire world of possibilities at their fingertips. Being able to gamble with your smartphone means you can pursue your favourite games online, and join a community of over 160 million people worldwide who use their smartphones to gamble. Of course, the more you know, the better equipped you will be to enjoy mobile gambles and reap the potential financial rewards on offer. Before you start, these are the essential things you need to know in order to ensure the best possible experience:
1.) Know Your Limits:
Gambling can become a problem if you are spending more than you can afford. Determine your bankroll before you start engaging in any kind of gamble on your smartphone and make sure you stick to it. You should only ever be spending money you can afford to lose; never gamble rent, bill or food money. As gambling can offer a lot of thrills, you might also want to think about the amount of time you spend gambling on your smartphone.  Set a time limit for each day and ensure that you don't exceed that time limit.
2.) Your Device's Compatibility:
In order for you to be able to gamble from your mobile device, you must confirm the compatibility of your phone. Your phone to start with must be internet enabled with WIFI, 3G, 4G or LTE features. Several casinos advise whether your phone is compatible enough to play the games. In the case you are uncertain, you can confirm with them.
3.) The Phone Used Determines The User Experience:
Not all mobile phones are created equal. Better phones can offer an enhanced user experience when you gamble with your mobile phone. Bigger screens offer better graphics, while a better sound system can make the whole game feel more immersive and engaging. The mobile phone you use can also have an impact on game play: a larger screen with better touch response limits the possibility of pressing an incorrect button and making a costly mistake.
4.) Mobile Gambling Can Offer Better Odds Than A Real Casino:
Online games aren't subject to the same rules and regulations as those that cover gambles at a real casino. By choosing to play on your mobile, you can increase your chance of winning. Most mobile gambling games advertise their RTP (return to player), so by researching which games offer competitive RTP, you can give yourself the very best chance of winning. These chances are often much better than you would find in a real casino.
5.) There Are Lots Of Online Features To Take Advantage Of:
When playing on your mobile phone, most games offer online support through a "chat" feature. Take advantage of this if you have any issues or require any help by talking to the dedicated experts on hand. Many games offer multiplayer opportunities and even leaderboards, so you can play remotely with friends and have even more fun in the spirit of friendly competition.
6.) You May Have To Pay Tax On Your Online Winnings:
You need to know whether you have to declare your winnings from gambling on your smartphone when you submit your annual tax returns.  In many countries, there's no requirement to pay tax on any winnings, and there's need to declare your winnings on your tax return. This includes, but is not limited to, Australia, Germany, the United Kingdom, Italy, and Canada. There are several countries where one is exempt from paying tax. If you are not a resident of one of these countries, do some research on any taxes that you would need to pay and make sure that you declare your winnings on your tax return if required.