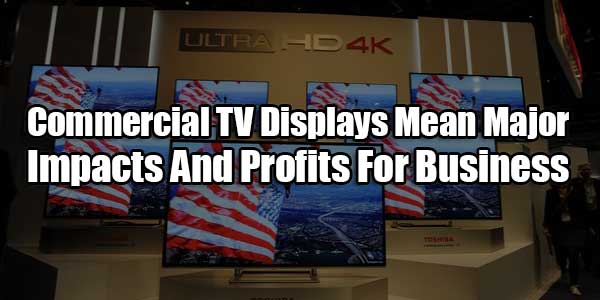 Putting your business on display takes on a whole new meaning in today's digital world thanks to commercial TV displays! Crisp, clear, and easy to install, these screenscan also mean a major increase in revenue for business owners. Today, you can find commercial screens and other forms of electronic signage used for a wide range of businesses and industries, including hospitals and clinics, airports and train stations, restaurants and food courts, convention centres and corporate lobbies, and all sorts of retail locations. Captivate and educate your audience like never before, and make the switch to digital displays!
Way To Attract Customers:
The success of this medium can be linked to the fact that customers are more likely to respond to compelling sound,animation, movement, and changing interfaces than they would a static poster, billboard, or radio ad. To get inspired, simply start looking around you when moving through commercial spaces. Restaurants now provide vivid displays of their menus, enticing customers with realistic depictions of food items. Retail customers will more likely see themselves in a new outfit when they see models showing off the brand in 1080 p resolution in widescreen format. In an emergency, commercial TV displays can quickly and easily convey vital information effectively and in around-the-clock rotation.
Change Your As Anytime From Anywhere:
That information can also be updated in real time, and from a remote location. This is extremely useful in high traffic areas, whether in an airport, government office, or shopping outlet. Electronic signage can add refinement and distinction to a business owner's establishment—a sense of real professionalism accompanies any wall of commercial screens. With the ability to function 24/7 in continuous operation, these screens far surpass their consumer brethren and require very little upkeep.
Future Of Advertisements:
The future of screen-based advertising seems like it's just going to geteven brighter, especially when you check out some of the better providers, like Toshiba! Currently,Toshiba screen selections can range from 42" up to 70" and can combine to form one huge advertisement. When you purchase a Toshiba commercial TV display,it will often include features like ultra-wide viewing angles, amazing contrast ratios, auto brightness sensors, LED backlighting, embedded WIFI, and various connectivity options.
Last Words:
You can put your business on display using pre-made templates or you can create your own content; in either case, your work can be managed from your PC or mobile device, meaning you don't have to wait on the vendor to make changes in advertising. Of course, for the less tech-savvy people among us, your signage vendor can assist you either in person or with an instructional DVD.
Look for Toshiba-quality extended warranties and great customer service, and you'll never regret the decision to invest in commercial displays. Take your advertisements and reputation to larger-than-life digital platforms, and see growth, profitability, and a profound impact!