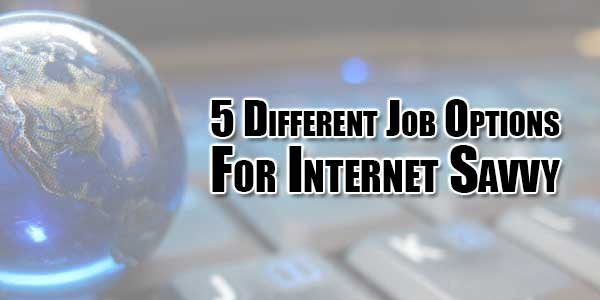 Do you spend most of your time on the net? Do you wish you could use this time to earn some money? As an internet savvy, you might find it difficult to get a job that keeps you off the World Wide Web. With emerging internet trends and increasing digitalization, you can easily land yourself to a job that involves a lot of internet.
Overview Of Internet Job Market:
The job market for internet careers is good. With the growth of internet, e-commerce continues to grow and hence, the demand for jobs involving internet is witnessing a growth. Web developers and specialists are expected to witness the highest growth in the next decade.
Internet offers both full-time and part time jobs. Here is a run-down of 5 most popular jobs for an internet savvy:
#1 Affiliate Marketer:
If you are one of those looking for a full-time job online, affiliate marketing is a wide array where you can explore your skills. Affiliate marketing is one of the oldest forms of marketing. In this form you need to refer an online product to someone and if the person makes the purchase on your suggestion, you receive a commission. The commission varies according to the product you suggest. You can become a full-time marketer or do it as a part time.
#2 Web Developer:
You need to be a techie to grab a developer job. The internet industry demands a number of them. To get started as a web developer, you will need to have the basic knowledge of computer languages such as HTML, Java, CSS and JQuery etc. With that, if you add certifications of courses like Photoshop/UX/Web Design, Cross-browser compatibility etc. your resume will become a perfect fit for a developer job. Web developers spend a lot of time on the internet, making their portfolio, learning new techniques. Hence, if you are sure to make a career in the internet industry, web developer is a good option to go for.
#3 Search Engine Optimization:
To begin working as an SEO for any recognized internet company, the first basic requirement is the simple understanding basic principles of SEO and underpin its success. To get an edge over others in the industry, you will have to brush up some basic skills. Terms like blogging, HTML, Analytics, WordPress should sound attractive to you. The growth in the internet industry has led to a greater demand in SEO as it is an easy and cost effective way to generate leads. Successful SEO techniques can do wonders for a business.
#4 Social Media Marketer:
The popularity of Twitter and Facebook has given new heights to businesses. These platforms have huge reach that businesses use to promote their products or services. Not only these jobs are high in demand but also are pocket friendly. The value and demand for social media skills are increasing continuously. Having good social media skills can get you any of the following jobs:
Digital Strategist
Content Marketing Manager
Marketing Manager
Online Community Manager
Social Media Manager
#5 Blogger:
Pen down your opinions and get paid. No it is not a joke. Bloggers are in demand. They get paid to write reviews and write their opinions about a service or product. It is one of those opportunities that you can get through your writing skills. You can even stay at home and work. Bloggers are hired as well as work independently. If you have a personal blog with flowing followers, you could be paid for endorsing products in your write ups. You can make handsome money using your skills. A part of blogging is SEO writing which helps a website meet its website goals.
Conclusion:
If you are interested in the internet industry for a full-time job, look for a job in the IT industry. The wide field encompasses all things including computing products and services. Internet growth has expected to witness the growth and increase in all types of internet jobs.
To grow in the industry, be the type who thirsts for growth and knowledge. For most of the internet jobs, you will need a bachelor's degree. Practice, experience and constant learning will take you to new heights in your career. Also, internet is a place where you can expect decent salaries. From developers to bloggers, all make handsome money.