When you're on vacation, you want to be as rested and relaxed as possible. Even if you're miles away from home, you still want to feel at ease and peaceful. It is therefore important that you choose the right luxury hotel. However, with so many great luxury hotels in the market nowadays, selecting one that suits you may be a tricky affair.
The following are some basic tips to ensure that you make the right choice and you get value for your money as you go vacationing by yourself or with your friends or family.
Don't Be Afraid To Ask Questions:
In case you are finding it a bit difficult to choose from several amazing luxury hotels, go ahead and call or email the ones you are considering and find out all you can about their facilities. This will help you make an informed decision. Some of the things you will find out include the best rooms you can get with your budget, the type of meals they offer at their restaurant(s), etc.
The hotels want you to be their customer so they will be more than willing to answer all your questions. However, if their responses are not timely or polite, this may be a reflection of how they generally treat customers, so you might want to look elsewhere.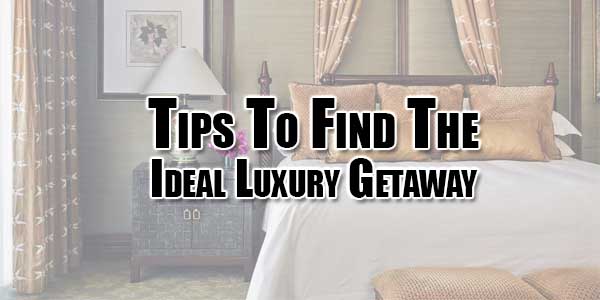 Determine Exactly What You Want:
There are a number of crucial things you need to take into account when looking for luxury getaways. In order to come up with a good list of things you need to consider, you need to first determine what it is you want from your vacation.
For instance, if you want a serene experience without the clamor that comes with crowds, go for a luxury hotel away from major cities and go for your vacation after the peak season. Alternatively, if you want to relax by the beach, then you'll definitely want to find a great beach resort and get a room with a great view of the water.
Compare The Rates Of Prospective Luxury Hotels:
You need to realize that just because a luxury hotel is the most expensive does not necessarily mean that it will give you the best vacation experience. On the other hand, don't quickly jump to the cheapest because you get what you pay for.
The most essential consideration to make when comparing the rates of different luxury resorts is how much value you will be getting for your money. When in search of search luxury, you have to compare the charges for various services and facilities, such as the turndown service, the VIP lounge, the concierge service, and the room service among others.
Don't base your judgment solely on the price tag because there is usually a luxury hotel that offers better service for less.
In summary, it is imperative that you do a good amount of research beforehand. Knowing what you want, asking the right question, and making good comparisons will ensure you get the best.