Are you looking for a way to increase the turnover of your interior design business? Do you think your aesthetic taste is impeccable and you can do more to promote it? Do you want to get more interior design projects? If you said 'yes' to all the questions, continue reading.
1.) Create Unique Business Cards And Memorable Signature:
Believe it or not, business cards can still do your business a lot of good. Make sure your card stands out and demonstrates how unique your venture is.
To achieve this:
Feature all the appellations and credentials
Share a photo of a recent project
Use a business card to make new connections
Make your email signature memorable to catch up with old clients.
Provide contact information, social media profiles etc.
If done right, a business card can be a great reason for starting communication and attracting more attention.
2.) Update Social Media Profiles As Often As Possible:
Naturally, social media allows better connection with your clients, especially if regularly updated. As your business, involves an aesthetic part, you have to showcase its visual aspect at best. For this, make sure to create accounts on Pinterest and Houzz. These social networks allow creating boards which contain the interior design and decor examples. So, you can not only showcase your own projects, but also draw inspiration from great examples.
Apart from this, you can also create accounts on Facebook and LinkedIn to be connected with other interior design professionals. The secret is to choose the media to communicate with your target audience and to be consistent in updating it. Find out why social media marketing is a must for every business and what the latest social media marketing trends are.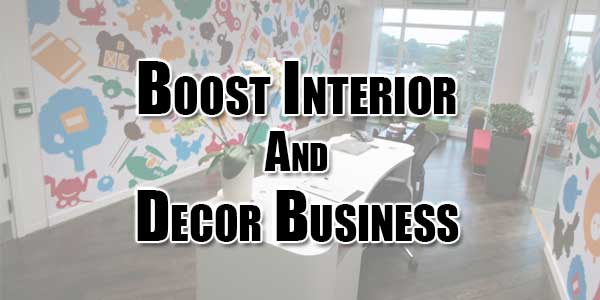 3.) Build A Solid Online Portfolio With Home WordPress Themes:
An interior design company website is unthinkable without an online portfolio. How to get one fast not having to spend plenty of time and money on web design? There is a way out to satisfy both the most demanding web designers and absolute noobs. WordPress is a content management system that doesn't require any knowledge of programming at all! It allows easy customization of your website including a great online portfolio. To make the website building process pleasant and easy, try ready-made WordPress Home Themes.
This very category of WordPress themes will fit any interior decor business for a number of reasons. The latest themes based on Cherry Framework include a number of plugins like Cherry Search, Cherry Projects, and Cherry Services. These plugins allow to search for and present your interior design projects at their best. Pre-made WordPress templates follow the latest web design trends, so you and your customers will enjoy the user-friendly design and high-performance functionality.
4.) Communicate With As Vast Audience As Possible:
What about your writing skills? If you're an interior design professional, you can make your point by writing captivating posts on your blog. Feel free to share your thoughts and opinions on interior design and decor trends. By providing quality content you'll be able to get more people interested and increase your popularity on the web. Remember that content is king, so you need to focus on content marketing to promote your business better. If you're not much of a blogger so far, follow a simple tutorial to write your first blog post.
Online presence is important, but direct contact with your potential customers is none the less important. How can you maximize your coverage?  Don't neglect the classic marketing methods. Get a feature in a respectable theme magazine. Explore the possibilities of participation in interior and decor events. Conventions, exhibitions, panel discussions – anything will do to promote your company. Constantly look for more ways to spread the message offline getting out there and talking to real people.
5.) Constantly Research Your Competition:
Make sure you research the market constantly and get to know as much as possible about your competitors – both old and new. Without doubt, competition makes your business stronger for a number of reasons. It's always a great idea to learn from a worthy contender and mimic the best business tricks. Understand how exactly your competitors attract customers, what they offer and how you can stand out from them. Be professional and remember that your main goal is to show the level of your skills and services. Make sure to highlight your strengths and your outstanding offers that allow your customers to save their time and funds.
Being a qualified professional can be quite challenging – one has to keep up with industry progress, novelties and new technology. It is always a challenge to continue learning and staying relevant. This is why attending events is of crucial importance to help you do that.
Hopefully, the above tips turn out to be useful and will help you in your job! What other things would you recommend for boosting an interior & decor business online and offline? Which tips do you consider to be the most effective? Sound off in the comments below!