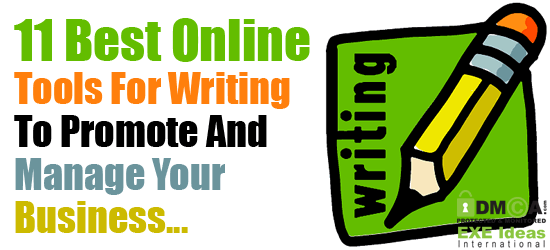 The Internet is a really great tool but finding what you truly want and search for isn't always quick and easy. It can often happen to spend all your time looking for something on the Internet and realizing that you've only lost three hours of your life and found nothing you can really use. In order to save you from wasting your valuable time and energy here are some of the best free online writing tools you can use to promote and manage your business, save important data and have access to your files from anywhere in the world:

PlagTracker:
Plagiarism is a serious offense with substantial possible outcomes and duplicates are also penalized by the popular search engines. In such conditions you most certainly wouldn't want your content to be marked as plagiarized. To protect your work and make sure your writing is unique you can use plagiarism checker that scans your articles against all published content on the Internet to provide a quality report with a list of all used sources, and corrections and citations that need to be made.
Evernote:
Evernote is like an online notebook where you can write the things you want to remember for later. When researching and gathering information on a certain topic you can write down all the important notes, audio-record your thoughts, save pictures, interesting ideas and even entire pages as your scroll the web and store everything into your categorized online notebooks. The best thing about Evernote is that you can access this data at any time and from any device you have — a smartphone, tablet, or a laptop.
Google Alerts:
You can create Google Alerts to follow the latest on the topics of your interest and get inspired by the work of others when writing your own blog posts and articles. Google will notify you on your email whenever there's something new on the Internet that's related to the queries you've set. To make sure no one steals your original work you can also create Google Alerts with your name or with few lines from your recent published works and get notified if someone else is trying to gain from your effort.
Sourcebottle:
You can certainly use your personal friends' experiences to tell a story you need to write, but more often you'll have to rely on other sources. Where can you find them? On Sourcebottle. This is a free online service that connects writers, bloggers and journalists with different sources to choose from. You can type in the details of what you look for in the search box (but be as specific as you can) and Sourcebottle will email their subscribers and tweet their followers to let them know what you need so they can contact you if they have something to offer. It's up to you to pick the best.
Social Callout:
All bloggers want their blogs to also make them some money, but getting the paid advertisers to want to appear on your blog isn't that easy. Luckily Social Callout can help. This is a great online tool you can use to connect and directly negotiate with brands and businesses in your niche and possibly make a deal to advertise on your blog.
Dropbox:
Writers are always scared something will happen to their laptops and they'll lose all their work. You probably feel the same. Dropbox is an online storage space where you can save all your work and access it from any place you are. You just need to download the software on your computer and a Dropbox folder will be created where you can keep all your writings and store anything else you want. The files in this folder will automatically be uploaded to be kept on your Dropbox account you can sign into when needed. You can use the 18GB free space or upgrade for a monthly fee.
Clippings.me:
As a writer you need to showcase your previous works. You can do this on a blog or on a self-hosted website, or you can create an online portfolio using tools like Clippings.me. Here you can upload your articles and blog posts, edit your page to suit your style, add a biography and your social media profiles and easily create a beautiful webpage you can later promote in your signatures.
Blogs:
If you are tech savvy go ahead and build yourself a website, but for all other writers blogging platforms are much better and safer solution. They get all the hard background work done and the only thing you need to do is pick a template, customize it and start writing and publishing. One of the most popular blogging platforms is WordPress. Here you can connect with fans, but also publish turned down stories by your editors which your readers might appreciate, or just link to your online portfolio and lead possible clients through your other work.
Twitter:
Today writers not only have to write well but they also have to build solid networks of fans and followers because the editors want those regular readers on their websites too. Twitter is a great social network you can use for self-promotion and to also broaden your contacts and be in touch with a whole network of people with whom you can share information on writing or other popular topics related to your niche.
Pinterest:
For the creative writers Pinterest is a great inspiring online place to be. Unlike before when they had to cut magazine pages and pin them to a cork board, they can now create an online storyboard of pictures they've taken or seen scrolling through the web pages, to remind them of how their main characters look like as they write their next book. The boards can either be private or public. If you want you can make your pins visible to everyone and this way share the behind-the-scenes of your book and interest your audience before it is even out on sale.
Xero:
The creative minds usually aren't good with numbers and getting paid certainly is important for every writer. Xero is a great online accounting tool that can help you track your cash flow with access from anywhere in the world, manage banking transactions, generate and pay invoices, and even make your business grow easier.
About the Author:
Sandra Miller is a freelance writer from Brooklyn, loves writing tech tips.