Power banks are among the most useful type of charging electronic because it's portable power that you can take with you anywhere. You're always going to be limited to the length of a charging cable when you're using other charging electronics and this goes for USB wall chargers, Car chargers, and Wireless chargers too. Power banks are the future of having our devices charged up throughout the day and never losing power.
With that said, there are a lot of power banks on the market and it can be difficult to depict what power banks are for what purposes. This is why I've created categories of power banks that are the best and they can be very useful for you or hold their place in a niche interest. Let's take a look at how these power banks are helpful in their own ways.
1.) Mini Power Banks:

Mini power banks are very small and portable and that's what makes them one of the most used power banks on the market. They have lower power capacities which are why they're so small, and it's important to know that the power capacity of the power bank and the size of it are directly correlated.
Since Mini power banks have low power capacities of about 3,000mAh to 5,000mAh; they're only able to charge most smartphones about once or twice before needing a recharge. So Mini power banks are meant for one use most of the time and aren't going to last for multiple charges and you're only able to charge a single device with these power banks.
Awesome Portable Designs:
It's the size that makes Mini power banks very useful because they either come in Cylindrical or Slim designs. However, Slim power banks are going to be a preferable version because they're the same size as your smartphone and you can place them into your pocket along with your smartphone and have charging taking place while both of them are in your pocket.
High Capacity Power Banks: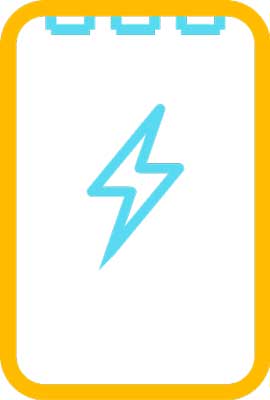 High capacity power banks are just as useful as Mini power banks, it's just that these kinds of power banks are larger and heavier. Actually, high capacity power banks are more useful than Mini power banks because they have high power capacities, more charging ports, and special charging tech.
2.) Capacity:
Let's start with the power capacity, because chargers like these can have upwards of 20,000mAh of power capacity and that means you're going to be able to charge devices multiple times over; charging smartphones means that they'll be able to charge about 6 times or more and even charging high battery capacity devices like tablets is going to result in multiple charges as well. Even laptops are able to charge to their full power if the power bank has the charging ability to actually charge Laptops
Amount Of Ports And Their Speeds:
Speaking of charging, high capacity power banks also have multiple charging ports. They can have 2, 3 or more charging ports, and that means you can charge multiple devices at once. With that said, the charging speeds of the ports are a different story because you want to make sure that each port is able to Output 5V/2.0A charging speeds, otherwise charging multiple devices at once is going to result in slow charging speeds.
Special Tech:
Also, along with the many charging options comes special charging tech like Quick Charge and USB-C; when used with compatible tech, those smartphones are able to charge at their max charging speeds and are able to charge from a 30% charge to a 90% charge within just 20 minutes. When you use that kind of high-speed charging tech with a USB wall charger it's useful, but when it's used with a power bank it's downright amazing.
3.) Rugged:

Most power banks, just like smartphones, aren't able to withstand drops or have water fall on them because when that happens they're most likely going to get damaged. This is why Rugged power banks exist. Rugged power banks have more reinforcements to them and that means the can withstand drops onto hard flooring and not get damaged. In addition to being shockproof, Rugged power banks are also Waterproof because they have a covering that goes over the charging ports. With that said, you must check the Enclosure level of each Rugged power banks that you plan on getting because depending on the Enclosure level, a Rugged power bank may be only able to take a Jet of water or it can downright be immersed into water and not take any damage.
Know The Enclosure Levels:
The importance of knowing the Enclosure level is vital because you might buy a Rugged power bank that has an Enclosure level of IP65, which is only able to take Water Projected from a Nozzle, and you may end up immersing it into water. However, the power bank isn't built to be immersed, and as a result, it will get damaged. With all that said, Rugged power banks are thought to be the most useful to be used in a Wild setting when you're out camping or hiking. It's true that these tough chargers are able to be taken into the Great Outdoors, but they're just as useful for everyday use as well.
4.) Built-In Cables:

Charging cables are needed with nearly every charging electronic that we use, even "Wireless Chargers" require a charging cable to be powered on. The charging electronic that can be most frustrating to always have a charging cable with is a power bank. Since you might run out of your house with your power bank but forget your charging cable. In the end, the power bank is useless without the charging cable.
However, there's a solution, and it's by using a power bank with built-in charging cables. Simply search for a power bank that has a built-in cable that you use the most, so you'll always have a charging cable with your portable charger. Also, not only do some power banks have built-in charging cables to use with the devices that you plan on charging, they also use Input cables that are used to recharge the power bank itself. That way, you won't even need a cable to charge your devices or even recharge the power bank.
5.) Car Jump Starters:

Last on this list, is possibly one of the most helpful power banks. Car Jump Starter power banks are able to charge your USB chargeable devices, Jump Start your car, have a LED power capacity screen and in some cases, they even have a DC Output to charge devices like Laptops and even power appliances.
These kinds of power banks are quite large and really heavy. They're meant to be placed into your car because they're one of the best power banks for emergencies due to their powering capabilities. They even feature flashlights that are great to use as well.
Take for example this DB Power bank. It has 2 USB charging ports that are able to charge your USB charging devices like your smartphone or tablet. Then there's the DC Output port that can be used to charge laptops. Also, another common aspect with Car Jumpstarter power banks is that they use DC Input charging methods which make recharging these high capacity power banks a very fast process.
On the LCD screen, the power capacity is shown in a percentage manner and also shows the power that's being outputted. These kinds of power banks basically accumulate into being highly reliable devices, but the only problem is that you can't carry them. However, by having a Car Jumper starting power bank in your car at all times, you'll be able to go anywhere with confidence knowing that you can provide power to your car and your devices too.