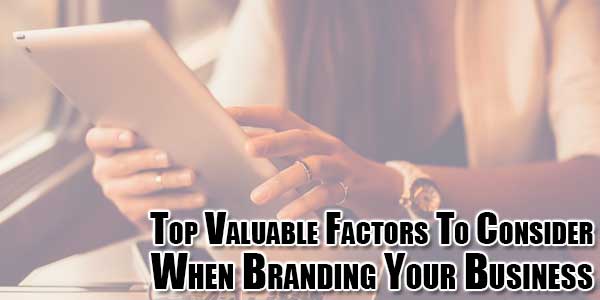 Branding is crucial in today's business world. However, many organisations fail to realise this fact and suffer as a result. To avoid this fate and to create a brand shoppers and customers trust, there are certain factors you need to be aware of. Below are the most important factors you need to consider when branding your business.
Getting The Right Help:
Branding is just one of the areas of a business that you may need help with from someone outside your organisation. The good news is that there are many trusted business consultants like Sam Ovens who can help you with different aspects of your company including branding. These business experts have the skills and experience required to promote your business in the best possible light and they will introduce branding that sets you apart from your competitors.
As well as getting the right external help, you should also look at the resources that are available in your business. Anyone with experience working in your business should be included in this process, so that you come up with a much more rounded branding solution.
The Current Situation:
Before you can move forward with any branding exercise, it's vital to understand how your business is currently viewed by other people, including your customers, your employees, your suppliers and any other individuals or business that come into contact with you and your organisation.
You may find that some of the opinions about your business are positive, while in other cases they are more negative. You should try to focus on what people like about your company and incorporate this into your branding going forward. For instance, if people trust you and your company because you provide a local service or you provide excellent customer service, this should be emphasised in all of your marketing and adverting materials.
Look At What Others Are Doing:
Sometimes you can save yourself a lot of money and hassle by not trying to reinvent the wheel. A huge number of companies rebrand themselves and spend millions of dollars in the process.
The way they brand themselves could be just the inspiration you need to create your own brand. However, you should look at ways to make your branding unique, instead of simply copying someone else's idea.
Your Products And Services:
At the end of the day, you brand your business so that you can sell more of your products or services. The products or services you provide are key to the way you carry out any branding exercise. In some cases, you may provide luxury items or services, so you need to tailor your branding to suit people who are interested in high-end products. In other situations, you may provide affordable products and your branding should reflect this aspect of your products or services.
Consistency And The Areas Of Your Business You Need To Brand:
The bigger your organisation is, the more contact points you will have. In some cases, you may have a brick and mortar store, a commercial fleet of vehicles and a large online presence. Your branding and your marketing message across all of these channels should be consistent. For example, your logo, marketing colour schemes and marketing slogans should all be the same.
If you do this, your potential shoppers and customers become more familiar with your brand and what it stands for. This familiarity builds trust and has the potential to attract many more people to your business for all the right reasons.
Ability To Adapt To Future Changes:
What's popular now may not be popular in a few years time, so you should always be willing to adapt and evolve with the changes that take place in the business world. When you are taking part in a branding exercise, make sure you create and record the whole process. The lessons you learn now, could be used later on if you need to alter your branding and marketing methods to suit the requirements of your market.
If you want to stand out from the crowd you need to seriously consider branding your business. The more people recognise your brand, the more they will trust your company and spread the word about the products or services you have to offer. Eventually, the money and the time you spend on branding will pay off in a substantial way.