Facebook cover is not only a picture in fixed size. It is something that can help people to know you in a short time. It's the first thing seen by your page visits and it has the power to decide whether they will continue looking. So it is important to make Facebook cover properly. While the question is how could you easily and quickly create a fascinating, eye catching Facebook cover photo?
The great thing is that the Internet offers us plenty of Facebook cover tools. Below you will find 3 easy and free places to create awesome and unique Facebook cover for your profile that your friends and customers will not be able to miss.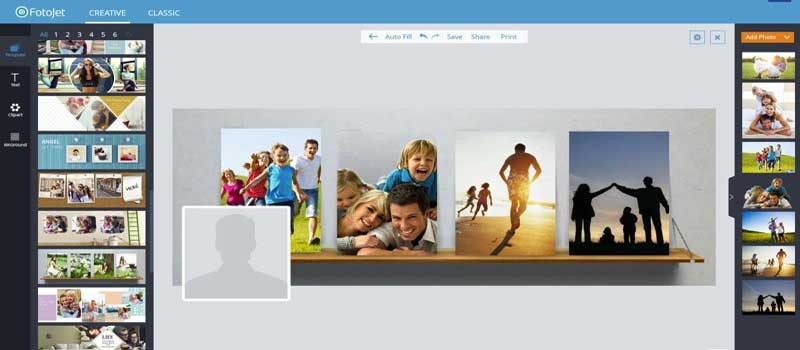 FotoJet developed by PearlMountain Technology Co., is a never-miss-out online tool that helps you make amazing cover photos with minimum effort. There are no complex settings and the whole interface is very intuitive and user-friendly. Using FotoJet is as easy as moving and dragging your mouse; no registration or download is required.
It prepares many delicate Facebook cover designs on its Facebook feature page, delivering endless creative ideas for you! The default size of all those designs is 851*315 pixel, which is the exactly proper size for uploading as a Facebook cover. FotoJet also keeps the profile place in mind by preserving non-editable area in the left corner. You just need to choose one template you like and then start to customize.
After choosing well your favorite Facebook design, upload photos from your computer or from Facebook and then drag them to the place you want. Photo editing tools include crop, zoom, rotate, flip, mirror, filters and color adjustments. With just a few clicks, a gorgeous Facebook cover photo will be perfectly arranged. Then choose to save as PNG/JPG image or share to Facebook directly.

PicMonkey offers 4 different layouts for Facebook cover collage. The layouts are adjustable and you can add as many photos as you want by dragging and dropping them between the existing slots. Resize, rotate, flip, or adjust exposure of uploaded photos if you want. Also, you can adjust the spacing between photos, corner rounding, and background color/transparency.
When you are satisfied with your photo, you can send it to PicMonkey's Editor to add text, frame, texture, effects, overlays, and more, by selecting "Edit" at the top menu.

Timeline Cover Banner is a flexible Timeline tool, which provides you with the power to create a creative and customized Facebook cover easily and free even for commercial use. It provides a wide variety of backgrounds for you to choose from. You can choose one of the provided backgrounds, AND then upload your own background and photos, and arrange them exactly as you want them. You can also add text, shapes, drawings, and play with your photos' saturation, brightness, etc. When you're done, this online service lets you save your Facebook timeline cover picture as PNG files.
Hope you will like the 3 Facebook cover tools and find them useful. If you know some other great tools, feel free to share in the comment.