The number of private business owners and startup firms is on a rise. With the number of entrepreneurs and thought leaders growing day by day, there's an escalating need for explainer videos. Every startup company needs a way to cut through competition and be seen. What better way to market yourself than by having an animated explainer video do all the talking for you?
What Is An Explainer Video?:
An explainer video, as the name suggests, is a short narration of your business proposition that succinctly explains who you are, what you do and throws light on what products/services you have on offer for the people you're targeting.
Animation is both engaging and shareable, which is why companies, big and small harness the power of animation to deliver visually compelling business stories to attract prospects! A video can be animated in a number of ways. In this blog we highlight the top 4 styles of animating your video pitches.
1.) Kinetic Typography:
Kinetic animation refers to videos consisting of text, brought to life by an interplay of motion and typography effects on the screen. This mode of animation is prefered when facts and statistics are to be presented. Kinetic typography also comes into play when the gist of the video relies on the impact delivered by words! A major benefit delivered by kinetic typography is that it takes less time as compared to creating character driven animation videos, courtesy its text-based nature.
2.) Character Animation Video:
We've all grown up on cartoons and character driven animation, so why not adopt the same format while designing explainer videos? This style is the most engaging as it relies on characters, detailed scenery and a complex storyline being narrated in the simplest way possible! It is also the most expensive style owing to the intricate details that go in the production of one! Character animation is perhaps the greatest way to share stories that evoke a strong emotion, thereby striking a chord immediately with your audience members!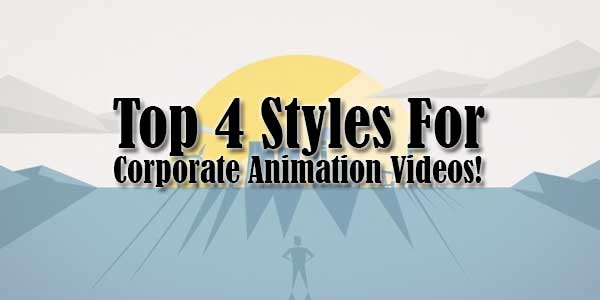 3.) Infographic Video:
If your script consists of complex statistics, mind-boggling information, then an infographic video is the way to go. Infographics refer to visual representations of information, that deliver your message in a crisp yet crystal clear way. Infographics are extremely popular on social media and are very shareable!
4.) Whiteboard Animation:
Enliven your videos with hand sketches drawn on white space. A whiteboard animation video is one of the biggest aids employed by storytellers. They are fun to make and a great way to illustrate your proposition without entailing the high costs of a character driven animation video. Whiteboard animation is memorable and coaxes a human connection, thus paving way for effective communication between you and your target audience!
So if you're someone with an idea up your sleeve, looking for a way to attract investors, ensure you turn your strategic intent into an awesome visual narrative using one of the above mentioned styles!