WordPress blog totally depend upon DataBase and Table in MySQL so if you will overload it then it will take down you blog loading time that can leave bad effect on SEO too and sometime shared hosting account got terminated. So you have to keep your DataBase light weight and optimize to run and response faster.
There are many ways to keep your DataBase clean but if you want to optimize your whole DataBase from one dashboard and via one click then you must have to use a Plugin. For this purpose, we suggest you to use WP-Optimize. WP-Optimize is an extensive WordPress database cleanup and optimization tool. It doesn't require PhpMyAdmin to clean and optimize your database tables. Simple but effective plugin allows you to extensively clean up your WordPress database and optimize it without doing manual queries.
Features Of This Plugin:
Removal of stale post revisions
Removal of stale unapproved and spam comments
Removal of trshed comments
Mobile device friendly, now you can optimize your site on the go
Removal of all trackbacks and pingbacks
Cleaning up auto draft posts
Removal of transient options
Clear out the post trash
Automatic cleanup of all the integrated options (also uses retention if enabled)
Ability to keep selected number of weeks data when cleaning up
Option to add or remove link on wp admin bar.
Enable/Disable weekly schedules of optimization
Apply native WordPress MySql optimize commands on your database tables without phpMyAdmin or any manual query.
Display Database table statistics. Shows how much space can be optimized and how much space has been cleared.
Enabled for Administrators only.
How To Clean Up And Boost WordPress DataBase And Tables?
Step 1:) Open your WordPress plugins dashboard.
Step 2:) First of all you have to install "WP-Optimize" plugin from WordPress directory.
Tip: For Newbies: How To Install Plugin In WordPress Blogs?
Step 3:) Go back to WordPress Dashboard.
Step 4:) Select "WP-Optimize" from WordPress dashboard sidebar.
Step 5:) Here on first page, you will get clean of your WordPress blog DataBase.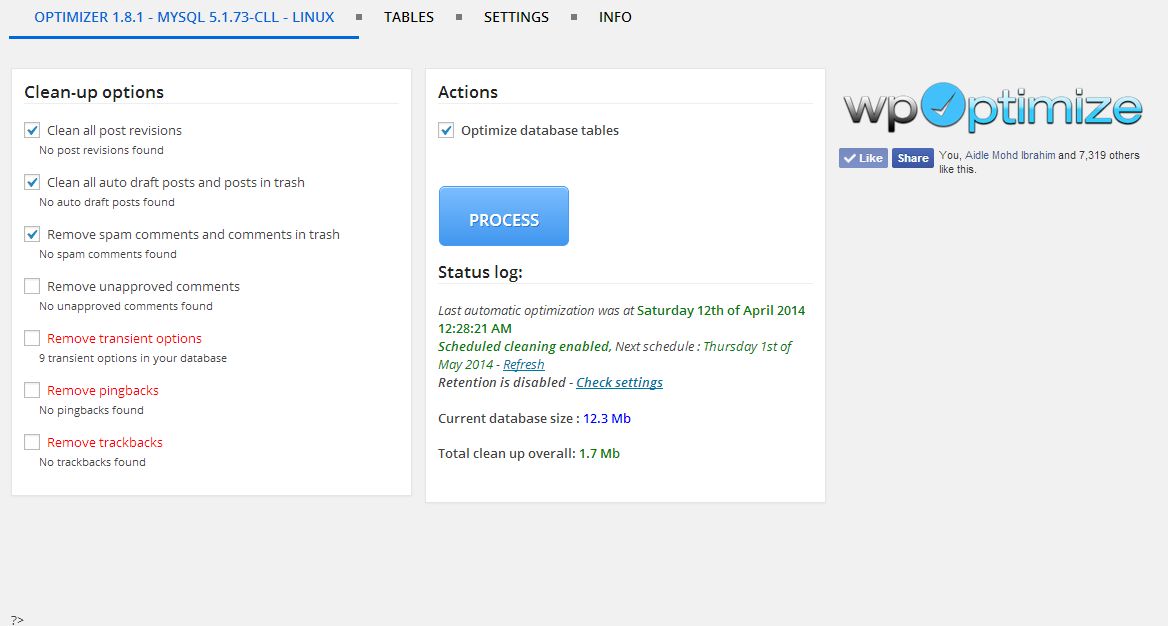 Step 6:) Here your all tables from your database will be display with there info.
Step 7:) Here you can set you schedule to make automatic boost and optimize of your WordPress Database easily.
Step 8:) Always make backup before optimizing your Database.
Last Words:
This is what we have and shared in easy steps for newbies so that they can easily know how it works. Stay with us because we are going to share a whole guide step by step about WordPress and make it easy for you. If you liked it then share it and be with us to get next tutorial. If you have any problem then feel free to ask us. We will help you with what we can or have.