IPv4 refers to the Internet Protocol version 4, the technology that makes it possible for everyone to connect their devices to the internet. Whenever a smartphone, PC, laptop, Mac or any other device connects to the web, it is assigned a unique IP address such as 22.38.448.448.
To transfer the data from one device to another through the internet, data packets must be transferred across the network that includes the IP addresses of the two devices. Without such IP addresses, devices would not be able to communicate and transfer data amongst each other, so this technology is essential to maintain the infrastructure of the internet.
Buying IPv4 Addresses:
One of the reasons to buy IPv4 addresses is that many of them are unused and owned by major companies such as Microsoft. More addresses are available for assigning and more are expected to be sold or traded, since IPv4 addresses are becoming a scare commodity. They will become even scarcer in the next few years until shortage of addresses creates problem for the internet.
Organizations with surplus IPv4 address space often sell the extra addresses to avoid wastage of investment and supplement use by the broader community. However, some enterprises may wish to transfer the right to use extra address space to an organization that is ready to compensate for the cost associated with renumbering out of that surplus address space. Both parties specifying the transfer should also meet certain requirements of a specified transfer.
Before buying an IPv4 address, determine whether the seller has IPv4 address available and request for purchase. You might have to get yourself on the waiting list if there are too many queries, as well as pre-qualify to obtain an unused IPv4 address space via a specified transfer from an organization. Also, the organization selling the address space needs to be verified for pre-qualification before accepting terms of a specified transfer.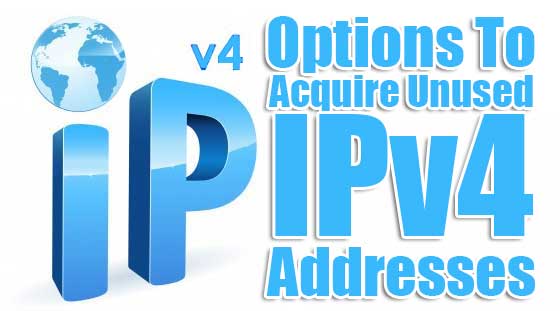 Options To Obtain IPv4 Addresses:
1.)  Via Transfer Market: You have the option to obtain IPv4 addresses from another organization with surplus IPv4 addresses that they are willing to release. IPV4 transfer specialists can connect you with such organizations in the IPv4 address marketplace. IPv4 Market Group informs that reputable address facilitators get the job done regardless of whether you're in ARIN, RIPE, or APNIC region. Look for a facilitator that is a registered and approved facilitators within the ARIN (American Registry of Internet Numbers) STLS (Specified Transfer Listing Service), a facilitator listed within APNIC's region, and a broker with RIPE.
2.)  Direct Purchase: Check the daily status and current IPv4 buying guidelines at ARIN or your preferred region to determine if there is enough free space obtain the block you may be eligible for. Requesting this space from directly is the fastest way to obtain these addresses, as it doesn't require finding organizations with unused address space willing to release them. However, direct space is often sold out quickly.
3.)  Waiting List: If you choose the direct buying option and a block you prefer is not available, you may opt for a place on the waiting list. When a block of your size becomes available (when an organization fails to pay its block renewal fee, for example), they would be used to fill requests on the waiting list.