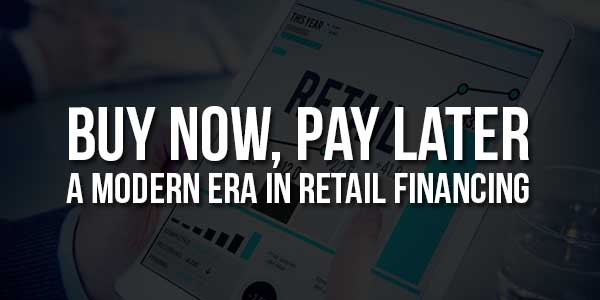 Shopping has become a tradition for today's generation. Hence the number of shopaholics increases day by day. And if you are one of them, and listen about the buy now pay later policy then what will be your reaction? Yes, now this fantasy has become reality.
With the name, you can come to know what you are going to get. With the buy now pay later scheme you can buy something and you do not have to pay for the things immediately. It is a very good opportunity for a buyer. So do you think how is it possible? Then this article is only for you. Through this, you can know all the details about the buy now pay later scheme.
What Is, Buy Now And Pay Later?
The term, buy now pay later is known as BNPL. This is a point of sale by which a buyer can buy from a retailer and they don't have to pay the whole amount upfront. It is a short-term lending option. They can also go for an online payment option and do not have to pay the whole amount. If you are a credit card holder then also you can get this instalment offer.
Buyers have to do a small amount of payment at the point of sale and they can pay another part later. This instalment requires some set number of payments in which they have to pay the whole amount monthly or weekly.
It is quite difficult for some consumers to pay immediately a big payment so this policy can help them. BNPL has the ability to increase impulse buys and drive additional e-commerce sales.
Are BNPL And Installment Lending The Same?
BNPL and instalment lending are quite different.
BNPL always gives the main focus on closing sales rather than a customer's ability to repay their loan but instalment lending is not.
BNPL doesn't require a lot of comprehensive credit checks. But instalment lending does.
Why Do Retailers Offer A Buyer This BNPL Opportunity?
If you are a retailer then it can also help you in your business. It is now becoming an e-commerce trend. So do you know why you should offer it?
Improved Customer Lifetime Value:
Yes, it can help you to increase your customer's lifetime value. Loyal customers are very crucial for a business to grow. Maybe you have a lot of loyal customers who shop from you on an ongoing basis. But sometimes it is even quite difficult for them to buy an expensive thing regularly. But with buy now pay later can influence the frequency or value of their purchases. So when they buy many more things your profit will increase. By a survey, we came to know that 31% of people would not buy the products if they didn't get that opportunity.
Increased Conversions:
There are many people who love to experience new technologies, even when they are looking for things they load many things in their cart. But when it is time to pay they become upset. If they buy one product it makes them feel more willing to pull the trigger. So here BNPL always helps them, it is like credit cards with no real savings option. So with it, they can consume more products from you. And it gives you a lot of benefits. According to a survey we see that 48% of consumers would allow BNPL availability to influence purchasing decisions.
Better Customer Experience:
A good customer experience can increase your brand's impression. It is very much crucial for a business to get a good customer experience. It can build loyalty and encourage repeat business. BNPL will take care of you. It provides flexibility to choose payment options. Up to 6% of people can not purchase something for a bad payment process of a business. So it is very much crucial.
Is BNPL The Next New Thing And Never Quit?
We all know about instalment lending which has been popular since 1977. But in this pandemic situation, we get a new opportunity to buy now and pay later. It is not a new thing although it is a modified version of retail finance. It contains new features like the "Pay in 4" instalments model, omnichannel access at retailer websites, and a friendly non-banker approach. It is now a very popular appeal that has limited credit policies.
What Are The Key Consumer Demographics Using BNPL?
BNPL is a very useful approach. But when you want to use it you have to take care of its Key consumer demographics.
If you want to buy now and pay later you have to be a younger adult or 18 to 24.
You have to be Employed middle to high-income earners up to $75-$149k.
A consumer who has limited credit can get BNPL.
You have to be a Tech-forward consumer.
Is, 'Buy Now And Pay Later' Beneficial?
BNPL is very much beneficial for a buyer as well as a seller. Here is the list:
For Consumer:
You can take a thing to your house for which you didn't pay yet.
Even middle-class family members can also enjoy a quality product.
Check out process is very simple.
Fix payment and Do not have to invest anything.
Allow a person to spend more than their status.
You can notice previously that around 50% of customers can buy a product for BNPL.
Retailer:
For a retailer, it is also very important. BNPL offers customers financing solutions that have a $50 minimum, not only inexpensive products. So your number, not customers, increases.
It breaks the Amount so one can easily purchase it and your profit will increase.
BNPL always looks after your customers' satisfaction.
BNPL maintains your eCommerce profile. It adds a solution to your eCommerce store if providers are already integrated with your e-commerce platform.
If there is a provider who does not integrate with your profile then you will be editing code or needing to create a customized solution.
Conclusion:
So 'buy now pay later is very important nowadays. There are many key payment industries like Afterpay, Klarna, Mastercard, Visa, PayPal, Quadpay, etc. It can help you in BNPL. But yes it has some risks like penalty fees or impacts consumers' credit scores they pay late. So always be careful and do not choose a product whose budget is not within your limit.