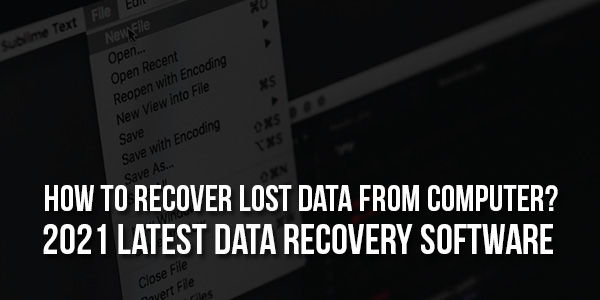 Okay, stop — deep breath in, deep breath out. If you've ended up on this page, there's a good chance you're panicking — but don't worry! We've all been in a situation where we've accidentally lost files that we meant to keep. Chances are, those missing files are crucial. Maybe to you, your coworkers, your clients — it doesn't matter because I've got you covered.
In this 5-minute guide, you'll learn everything you need to know about using data recovery tools to retrieve, relocate, and repair files you've lost. Ready? Let's start.
1.) How Does Computer Data Recovery Software Work?
Data loss situations vary from case to case. Ideally, you can recover data in its entirety (such as the file location, timestamps, and file names), but that doesn't always happen. The likelihood of a full recovery depends on many factors, including where the data was stored and which hard drive components were damaged.
Operating systems partition physical hard drives into sections that store data and information about that data — file names, time stamps, etc. Most file recovery software will scan the latter to retrieve your missing/deleted files or perform a raw file search of the entire drive.
Why Should You Use Tenorshare 4DDiG?
There are several data recovery tools out there, including EaseUS Data Recovery Wizard, Disk Drill, and Stellar Data Recovery. With so many options available, you might be wondering: is Tenorshare's 4DDiG the best data recovery software for me? Here's a quick list of reasons why the answer is yes:
Over 1000 File Formats Supported:
Our lives are filled with countless different file types. We get that! That's why Tenorshare 4DDiG can recover and repair files in over a thousand formats. So whether it's a. PNG from your last project, a . DOCX for next week's meeting, or a .MP3 from two years ago, we've got you covered.
Quick Scan And Deep Scan Modes:
Data recovery is a lengthy process, but your time is precious. That's why Tenorshare. 4DDiG provides two options for recovering your data:
Quick Scan, set by default to save your time.
Deep Scan, for when Quick Scan didn't find the right deleted files. And as a bonus, you can pause and resume the scans at any time!
Comprehensive Platform And Device Availability:
Whether you're on a Mac or Windows, 4DDiG has you protected from data loss. We also support English, French, Spanish, and more than five other languages. Best of all, you can use 4DDiG to recover lost data from any device — laptops, flash drives, CDs, memory cards, and more.
Now all that's left to do is some good old-fashioned file recovery!
How To Use 4DDiG To Recover Lost Files?
1.) Install 4DDiG On Mac Or PC:
4DDiG offers multi-platform data recovery, so you can download whichever version you need. For Windows, get your Free Download Tenorshare 4DDiG. If you're coming to us through an Apple computer, we've got you set for Mac data recovery.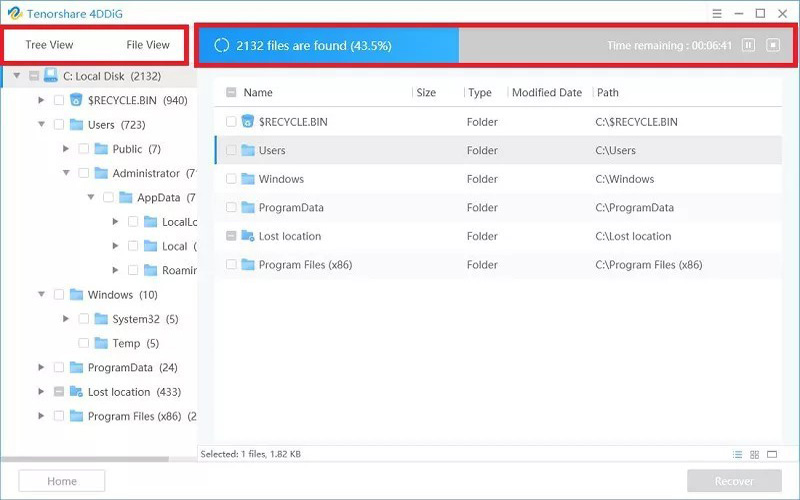 2.) Select The Drive You Want To Scan:
Determine the source of the data loss before trying data recovery. 4DDiG offers options between:
Devices and Drives — disks from which your computer reads information.
Common Location — most people lose data from their desktop or recycle bin.
Advanced Repair — best if you need data from before a computer crash. Select your location and hit Start!
3.) Sit Back As 4ddig Runs A Scan:
4DDiG will automatically begin running a Quick Scan on your computer. You can monitor its progress by watching it through Tree View, File View, or the progress bar up top. If the process completes and you cannot see the files you're seeking, run a Deep Scan:
Deep Scan will take much longer, but you'll get an even more comprehensive file search.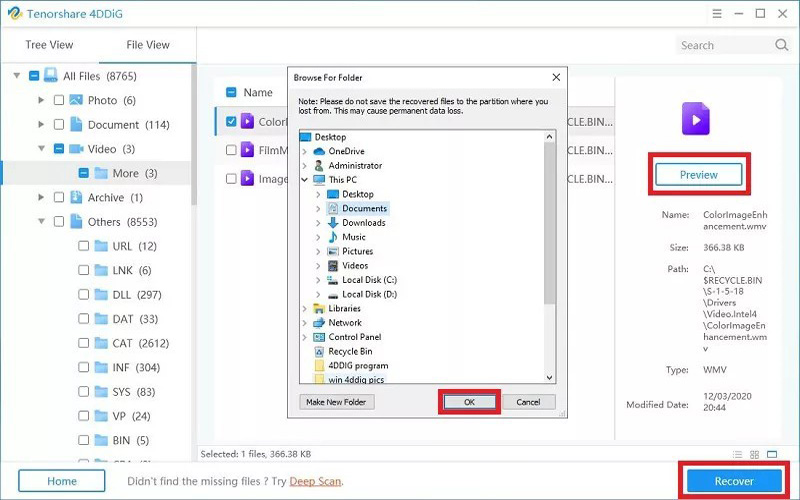 4.) Recover And Relocate Your Files
4DDiG lets you preview your files before you restore them. Once you confirm they're the correct files, choose the ones you want to keep and decide where to place them.
Download 4ddig Today To Recover All Your Missing Data:
And that's it! All the files you need, back where you need them. With extensive file format support, user-oriented scan modes, and cross-platform compatibility, Tenorshare 4DDiG truly is the best data recovery software on the market right now.
Are you in? Download  4DDiG  today to get started! Our dedicated team and customer-oriented culture ensure you're buying a product that will blow any free data recovery software out of the water.