A lot of work is required to keep your business on top in your industry. The main challenge is not figuring out what to do, but rather how to effectively manage all the work involved. Attending meetings, sharing project info, splitting up and delegating tasks to teams members, reviewing updates and replies, collecting and organizing results… all this necessary administrative work takes a lot of time to keep up with — sometimes even longer than how much time it takes to do the actual work. It can become even more time-consuming when your team is spread throughout the world. Project management tools are helping teams overcome these challenges.
Wrike combines project management with a real-time workspace for collaboration, discussion, and document sharing.
Most Popular Features in Wrike:
Basic tools for managing a project, like assigning task ownership, due dates, dependencies, and more
Comment stream attached to tasks to discuss work and keep track of decisions
Live task editor, so multiple people can work simultaneously
Team Dashboards for tracking work progress
Gantt chart to visually schedule and manage work
Real-time newsfeed to track all updates as they happen
Email integration to easily forward work from your inbox to Wrike
File sharing and editing
If you want an innovative, flexible, customizable, and affordable project management tool for your business, Wrike is ideal for your needs. This online project management software is a favorite of small businesses and industry giants alike. Whether you're have a one-person company or large organization, internal department or external agency, just one small team or several cross-functional teams, Wrike can be adapted to suit your needs.

Who is Using Wrike?
Wrike offers solutions for teams of all types, including marketers, marketing agencies, product developers, project managers, and team leaders. You can read more about what they offer for these groups on their pages below:
Marketers
Marketing agencies
Product development
Project managers
Team leaders
Wrike Prices and Plans:
Wrike offers three tiers of features, depending on your needs. They start with a free plan with basic task management features for up to 5 users, great for small projects. Their Professional plan costs $10/user/month (paid annually) and includes more advanced project management tools like Gantt charts, workload management, time tracking, and more. Wrike Enterprise offers all their customization features including reports, custom workflows, extended security controls, and more. You can read all the details on their Prices and Plans page.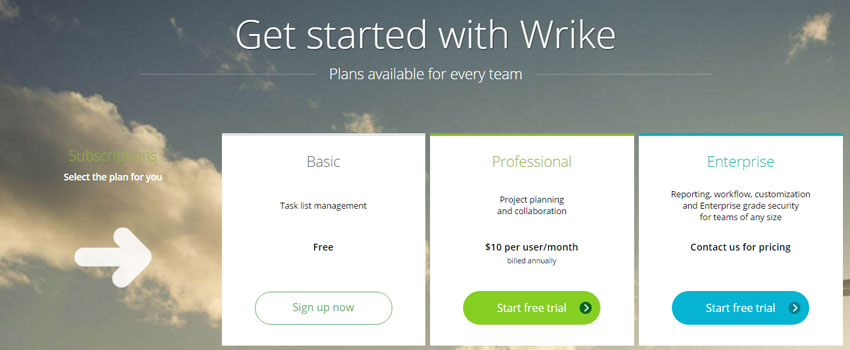 Wrike's Valuable Learning Resources:
The Wrike team also provides resources like articles and ebooks on best practices in project management, collaboration, and productivity. Here's a short list of some of their awesome free ebooks:
Collaboration Software for Marketing Teams: A Buyer's Guide
The Beginner's Guide to Project Management Methodologies
It's Not Me, It's You: Why Managers Need to Break Up with Email and Spreadsheets
What Doesn't Kill You Makes You More Productive
The Art of Staying Productive Even Across Distance
5 Strategies for Forming Team Productivity Habits
The Beginner's Guide to Online Marketing
7 Steps to Developing an Agile Marketing Team
7 Habits of High-Performance Marketing Teams
Wrike Customer Testimonials:
A simple way to judge a business is to see whether their users truly love the tool. There is no shortage of success stories or praise from Wrike's customers. Here's just some of the positive feedback on this project management software:



Wrike Apps and Integrations:
Wrike integrates with many popular tools, like Salesforce, Gmail, several file management apps, Zapier, and more, so you can bring all your information into one centralized hub and make work easier.

Cool Wrike Extras:
Access Wrike Anywhere (Mobile Apps & Chrome Extension):
Whether you're at home, in the office, or on the road, you don't need to worry about accessing work. Wrike offers free mobiles apps for Android and iOS, and a great browser extension for Chrome to help you instantly turn webpages into tasks.
Learn Something New (YouTube Channel):
If you want to learn how to use Wrike, or if you're interested in thoughtful interviews with project managers and business leaders, browse Wrike's YouTube channel.
Wrike for Everyone (Many Languages):
Wrike is a meant for global project management. As such, their tool is officially available in 10 languages (English, Spanish, Italian, French, German, Russian, Portuguese, Chinese, Japanese, and Turkish), and has a program in place that allows users to help translate Wrike into even more languages!
Business Tips and Tricks (Wrike Blog):
Wrike's Outcollaborate Blog publishes articles on work management, project management, collaboration, productivity, leadership, and more, so you can read a wealth of business advice in one place.
Conclusion:
Whether you have tens or hundreds of ongoing projects, one team using the tool or many tools working together, and a team in one office or distributed all around the world, Wrike exists to help teams of all shapes and sizes manage work and hit their goals. Using Wrike project management software to organize, execute, track, and report on every initiative will keep all your teams and work moving in the same direction.