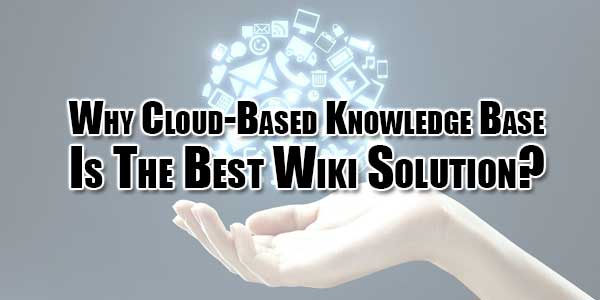 Given the fact that in modern business colleagues often move from continent to continent and companies have a lot of business offices located everywhere around the world, the need for sharing ideas and information quickly across the globe has become great, but luckily, there are various solutions for these needs.
Some business organizations turn to using Skype, Dropbox or some other software that can be used for sending files and documents in a simple way. However, there is a system that allows sharing files and documents in an even better way and on top of that, it is much better suited for working on long ongoing projects. This solution is called a Wiki.
Wikis give employees the option to collaborate on various projects from very far away, while at the same time sharing documents and editing them together. But Wiki programs don't just offer a platform for great collaboration, they can also be used as a virtual library of business organizations and serve as knowledge bases.
Easy Implementation:
The first important thing you need to know about cloud-based knowledge base wikis is that they don't have to be installed on sight. These are cloud-based systems and they are hosted on some external servers provided by the business that created the software; the only thing a user has to do is to access it using their name and the password they've previously set.
No need to install any programs, tools, or updates on the devices that will be used for accessing your cloud-based knowledge base system. The best of these software solutions are usually optimized for most devices and they can even be used on a smartphone.
Apart from the fact that you won't have to install anything, you also won't have to maintain or repair anything that goes wrong. Your provider is there to do that for you and maintain the functionality of your cloud.
These are such great features simply because an employee won't have to bother setting up the tool and you won't have to hire experts to set everything up. Additionally, if someone changes the device they use for work or it simply stops working, they can easily switch to another one and continue doing their job while the broken one is being repaired.
Your Database Will Always Be Safe:
One of the biggest reasons why knowledge base wikis are so good is that they can be filled with a lot of information that can be useful for a business and help increase efficiency and and provide excellent results. This information and knowledge base are constantly growing and the larger they get, the greater the risk for a company it is to lose them. You cannot afford to lose the data you've gathered for such a long time and figured out good business incentives.
Like I mentioned in the previous paragraph, a cloud based solution is managed by your provider and all of your knowledge base will be located on a remote server. This means that you won't have the risk of losing all of the important data by accidentally deleting your database or having your computer break.
Additionally, if you find a good provider, you will get regular backups and maintenance that will ensure all of the information you have stored is safe and sound. Nothing will be lost and all of the information will constantly be available to all of the users.
Collaboration At The Highest Level:
A wiki knowledge base is a content management system which gives users the option of creating new documents and files, while also being able to add the ones that already exist directly to the cloud. It is very different from other content management systems such as online vaults or blogs, given the fact that it doesn't have a limited initial structure.
This kind of solution gives editors the ability to come up with a format, structure, and collaboration on their own and to their need. A knowledge base wiki can be an effective tool for streamlining all business processes in one place and giving the freedom to create the best possible solution that can suit your business needs, no matter if you are looking at your customers, employees, organization methods or the entire industry.
People can work on projects together, share valuable information, comment, edit, criticize and catch any mistakes early on, before the whole project goes far and a lot of work is built on that mistake.
A Knowledge Base Wiki Can Teach People:
One of the amazing things about wikis is that they can help a company assimilate new employees. In most cases, new hires need additional training and instructions when they start working and a wiki can help train them, no matter the type of the business you are in or the type of office in which new employees will be working.
A wiki can standardize this process and make all of the necessary training information available in a format which is clear and accessed with ease. This can make it quite easier on employees to get the knowledge they need to become a full member of the company.
For those business organizations that have offices all around the world and don't have a professionally developed management, these solutions can be used as a valuable resource with valuable guides, videos or quizzes that can be used by managers from far away to see how new employees are developing and progressing.
All of these things allow important information to be delivered very quickly, with consistency and all in one place. Additionally, the very nature of the wiki knowledge base allows managers or trainees to give feedback instantaneously, which means that the methods of training will be constantly supervised and perfected.
Conclusion:
It's important to remember that even the best knowledge base software will be useless if you implement it into your business the wrong way. It's up to the management to organize it properly and make sure that everyone uses it correctly. How much of your business processes do you plan on integrating into the wiki is completely up to you, so take your time to plan everything out, because if you implement it properly, you will be able to grow your business into a serious organization.