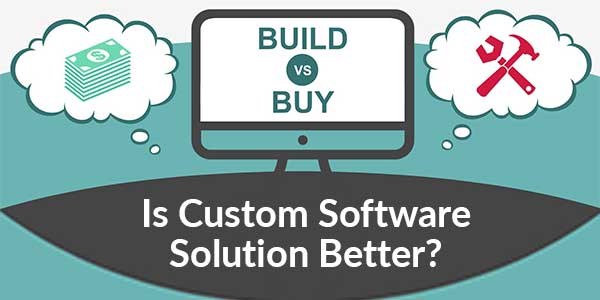 As a CEO, balancing your company's immediate needs with its long-term growth is critical and challenging, especially if your company is a startup. Challenging questions arise, like whether you should invest aggressively in long-term initiatives or take the least expensive and most conservative approach.
The build vs. buy decision, for example, is an important one faced by many companies when addressing their software needs. This blog will answer your question once and for all. Let's begin with our main question:
Build VS Buy: Which Is Better?
Many businesses initially start with off-the-shelf software because it is cheap and fast (in terms of delivery, of course!) But they eventually find out that lack of customization relative to the day-to-day operations ultimately leads to inefficient manual processes.
As the companies grow, these challenges become more and more pronounced, and scalability is hard to achieve. Ultimately, the companies feel the need for custom software development for a better future for their company.
Building custom software holds the possibility to unlock a host of benefits as they are flexible and gives you an advantage over your competitors as you can add features that your competitors lack.
Since we have deduced that custom software is better, therefore here is a brief intro about what is custom software because I don't want you to have any doubts.

What Is Custom Software?
Custom software, also known as "bespoke" software, is a type of application specially developed to suit a particular business or organization to meet its specific business-focused requirements. Custom software is generally designed for a single customer or a group of customers (clients) who decide what kind of functionality and processes the software should possess.
Relating this to our lives, custom software is like getting a tailor-made dress. Everything is designed as per your convenience and requirements.
Why Is Custom Software Development Special?
There are pros and cons to purchasing out-of-the-box software packages, as well as developing specialized software from a trusted custom software development company to meet your specific business needs.
While you don't have to spend time with the development team to design your software, in the case of out-of-the-box software, you can get started right away. However, these applications are generic in terms of end-user requirements and may offer certain features that may not precisely fit your unique needs.
So even after spending money, you may still have to struggle with certain aspects of business automation, as some features may not be available in your out-of-the-box software.
Therefore there are advantages of using custom software over off-the-shelf software. Let's take a look at them one by one.
11 Advantages Of Custom Software Development:
1.) Your Chance Of Becoming A Perfectionist: Optimized Business Process:
Each organization has its own business model of working and methods of performing internal processes. It is challenging for organizations to change their strategies to suit a particular software package or application, however efficient and powerful it may be.
Therefore, the software must be designed and developed in a way that it can align with the business model and follow the unique internal processes of the organization. Custom software development helps streamline your business processes rather than replace them.
2.) You May Not Be Einstein But Can Still Contribute In Inventions:
Since the software is fully customized, you have the option of deciding what type of custom software development technology to use to design your application. You have the power to choose and opt for trend-setting disruptive technologies to develop your custom app and make it work the way you want.
A little mix and match and cocktail of features from the already existing software and businesses is all that you need to incorporate in your software. For that, you must also hire developers from top software development companies in India.

3.) Show Them What You Got! Highlight Your Business Acumen:
The mere fact that you are interested in custom software development sends a strong message that you value your internal processes and take your job seriously. It emphasizes your commitment to your business as you optimize your process flows and your work model to run smoothly.
Therefore, a tailor-made software system for your business will help you write better success stories of your business.
4.) The Most Important Aspect-Reliability:
The ability to maintain and track your business processes over time helps you eventually succeed. Reliability is an important factor that defines success. Proper testing of your custom software ensures that you have a reliable IT tool that can grow your business.
Keeping your data safe is also an essential factor. Since custom software is specially designed for you, data breaching or hacking of this software is difficult.
5.) Stand Out Of The League- Uniqueness Is Important:
Every business is unique. There is no 'one size fits all' when it comes to business processes. Having software tailored to meet your individual requirements can complement your work model. Custom software development also helps in supporting your "unique" identity in the market.
Therefore, to succeed in this digital world, you need to stand out of the league in everything you do. For this, you can also get in touch with expert custom software development services in India and get your software built as per your needs.
6.) Your Business Software Must Be Adaptable To Changes:
Organizational processes change over time, and as market dynamics change, you need to adapt to new methods and technologies to maintain your marketing strength. Custom software can be easily changed – New processes and technologies can be integrated into your existing software as marketing trends change so that you can stay on top of your competitors.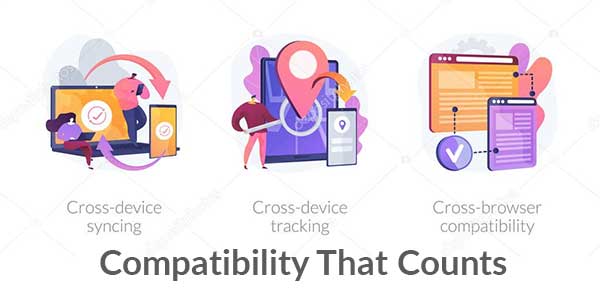 7.) It Is Compatibility That Counts:
Most organizations have an architecture model in which the results generated by a particular process (software application or module) function as an input to another process. A smooth flow of information is vital while optimizing your business model.
Using different "packaged" software for different processes can disrupt the flow of data, as a hybrid software infrastructure often has to rely on third-party devices and applications to facilitate communication between various processes and systems.
Hence, creating a custom software environment can solve many types of problems related to the flow of information between successive processes. You just need to hire offshore software developers with expert vision.
8.) Exclusively For You!
What works best for one company may not necessarily work for another. You may be following specific processes that others are not.
The software developed exclusively for you ensures that all your activities and processes are adequately directed and automated according to your requirements. You are free to add features according to your business needs, and voila, your exclusive software is ready to use.
9.) It Understands You So It's Highly Flexible:
You don't have to mold your work to fit the software you invested in. The advantage of investing in custom software is that you can easily change it to suit your requirements when needed, as it's tailor-made.
In short, there is always room for adjustment. All you need is the best software development company in India.

10.) Never Let's Its Guard Down Full-On Security:
A significant concern for many B2B and B2C companies, data access, and security concerns affect many end users in today's market. People who transact online want to ensure that their transactions are safe and secure at all times.
Supporting expensive security protocols can cause you to pass additional costs on to the services you offer to your customers. This can cause you to lose your competitive edge in the market. Furthermore, the flow of data within the internal processes of the organization must also be regulated by implementing strict security standards.
With custom software development, you have the power to decide which data security technology or protocol is ideal for your business and integrate it into your software.
11.) Easy On Pocket! Spend As Much As You Want:
With custom software development, you can plan and schedule the development process. You don't have to spend a large amount of money first to reap the benefits of automation.
Based on your budget and availability of funds, you can start automating individual process flows in organized and timed manner overtime to make development affordable through affordable software development services.
Wrapping Up:
Every business is unique in its own way. The reason being the mission and vision of every company is different. And so are the needs of every business.
The bottom line for organizations and businesses is that while you should spend some time defining your exact automation needs, opting for custom software development is worth the wait. This is as you can benefit from custom automation, especially made to meet your unique needs and business-focused requirements.
If you have made up your mind based on getting custom software developed for your business, then here's what you must do. Get in touch with an offshore software development company and benefit your business.
Thank me later!