Do you want to play 4k HD videos with a free 4K Ultra HD Video Player that allows you to play HD 4K videos along with downloading from top streaming sites in one click all together? If yes, then you got the right software to download here.
Let us ask you how about if you have a 4K video player that lets you not only play videos along with downloading from various online video or music streaming websites but also convert videos/music from various online video or music streaming websites. Sounds incredible? No, it's real.
5KPlayer is a free (MKV) HD video player, music player, DLNA & AirPlay enabled media streamer and online video downloader. This HD media player can do the followings:
Play 4K, 1080p, 360°, HD videos, DVD and radio with awesome design.
Play music in either popular or less-known format perfectly to activate your senses.
Wirelessly stream audios and videos via AirPlay & DLNA with HD quality.
Download online videos from YouTube, Dailymotion, Vimeo, and other media streaming sites.
Let's take a deep look at its amazing features that will let you think again to download now.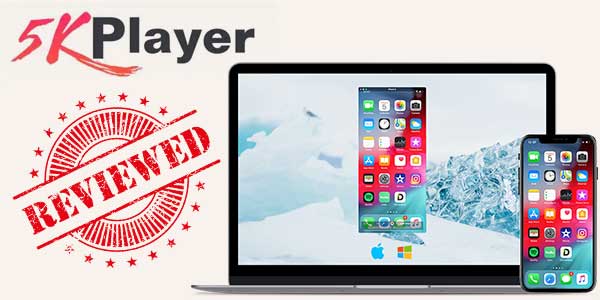 5KPlayer Main Features:
It is accelerated by system GPUs like NVIDIA, Intel, DXVA and AMD.
The 64-bit version supports 10bit HEVC (HDR) video and even H264 8K videos. Also, it is capable of dealing with UHD and large videos.
360-degree videos, music, DVDs, live radios and videos in any format are supported by this media player.
It can stream videos/music between Windows/Mac computer and DLNA compatible devices like Android, Smart TV, PlayStation, Xbox, etc.
AirPlay is another top feature in this media player so it can mirror the iPhone iPad iPod screen to Windows/Mac. It can also record the iPhone iPad screen while mirroring.
A simple video editor is built in to cut video, and simply edit the cut video: rotate, change playback speed, color balance, audio, etc.
Download online videos, with 5KPlayer is possible. You can even save the video to MP3.
5KPlayer Compatibility With Audio/Video Formats:
5KPlayer improves your PC/Laptop/MAC media playback abilities with hardware acceleration to play everything stored in your HDD, either it is a video or audio. With 5KPlayer, you can play nearly all kinds of video formats with low CPU and GPU usage.
It also supports playing video and music files that are in less common file formats which can be supported by the little media player. If you will try to find out any other 4K video players then it is not hard to find like this a 4K/5K/1080p video player as well as a region-free DVD player that is capable of playing normal DVDs smoothly.
Have Low-Speed Internet Connection? 5KPlayer Offers A Solution For You:
Playing 4K videos online requires a 25Mb/s or faster downstream connection that is not available in every part of the world but don't worry. 5kPlayer is here to cover this up. If your connection is lower than that, you can use 5KPlayer to free download 4K videos for offline viewing easily. 5KPlayer is capable of downloading online videos including 4K videos from more than 300 online video streaming websites and servers.
Know how to download 4K videos from YouTube in simple steps.
Step 1. Find a 4K video on YouTube and copy the URL.
Step 2. Open 5KPlayer and click the YouTube tab, and tap Paste URL & Analyze.
Step 3. Click the Download button to download a 4K video from YouTube and its Done.
AirPlay and 5KPlayer:
More than a free media player, 5KPlayer is a free AirPlay receiver/sender supporting media player. It allows you to AirPlay video or music files from iOS devices to PC or Apple TV and enjoys them on a bigger screen wirelessly and instantly in good quality. You just need to add your iOS devices and computer to the same LAN/WiFi network and connect one to another for AirPlay.
5KPlayer Video Editing:
It contains a built-in Video Editor too. With the 5KPlayer, it is even possible to edit videos: cutting them, rotating, changing playback speed, color balance, audio and much more as per your basic need.
Last but not least, you can convert videos to MP3, download subtitles along with the video, download playlists and more with the ability to multiple downloads and resume from the paused downloads if your internet connection is interrupted.

Why 5K Player Is Different?
This is a basic question. There are many 4K Video Players are available online but this relatively new software has various features that make it very interesting and unique, so let's go through the main ones of this.
The 5KPlayer supports GPU acceleration, so it works with NVIDIA, Intel, DXVA and AMD hardware to play videos more smoothly than they normally would be. It can play 4K/UHD and large videos including 10bit HEVC (HDR) video and H264 8K videos too.
It can even play 360-degree videos in addition to music, DVDs, live radio and many more. It supports video streaming through DLNA compatible devices. So, from Android to PC/Mac and from computer to Android/Smart TV/PS4/Xbox. Plus, it can be used to AirPlay mirror an iPhone/iPad/iPod's screen to Windows/Mac and Record an iPhone/iPad's screen while mirroring videos.
What's Our Opinion?
5KPlayer itself as being what a proper media player should be with having all required features and having tried it, we tend to agree that it's a pretty impressive piece of work. It'll play your audio and video files, as well as allow you to access streaming radio stations. Plus, it'll stream your content to an AirPlay/DLNA compatible device if you have one, and there's even a handy YouTube downloader built-in too. A basic Video Editor will cover up all need in one go too. So, you can grab a copy of any interesting video and keep it on your PC and MAC for subsequent playback or editing.