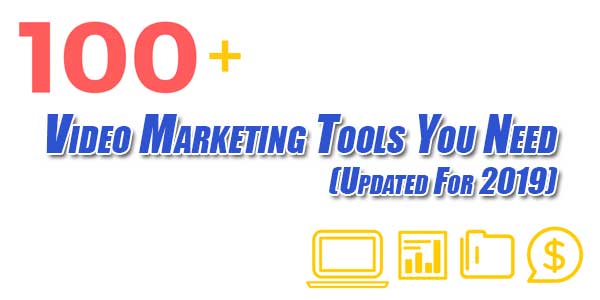 There have been various studies that show video marketing as the future of digital marketing. Some examples are the surge of video content circulating on the web from established platforms such as Youtube, Instagram, Snapchat, and even Facebook.
As video becomes a popular medium for content, its quality has also improved, making it possible for anyone to access high-quality videos anytime, anywhere. This means brands have a bigger chance of reaching out to their target audience.
However, creating a video isn't as easy as it seems. You need the right tools, footage, and time to edit. This leads to the search for the right tools. Although the Internet is filled with endless resources, it's overwhelming to scour and look for the right one for you.
We decided to take this matter into our own hands and do the heavy lifting for you. We created a list full of tools for video marketing. Ranging from different categories such as:
DIY Animation Tools
Video Marketing Platforms
Live Streaming Platforms
Video Editing Tools
Interactive Videos
Sound Effects Library
Stock Video Library
Sound Recording Tools
Scriptwriting Utilities
To get a feel of what you'll get in the list, here's a listicle to prime you before you head on to Breadnbeyond:
DIY Animation Tools:
Powtoon:
Payment Model:                      Pay Once
Price:                                       $16.00/mo. – $99.00/mo.
PowToon is an animated video maker for training and educational purposes. It allows you to pick between Explainer Video, Infographics, Presentation, Corporate Video, Social and Video Ads.
Vyond:
Payment Model:                      Subscription
Price:                                       $49.00/mo. – $159.00/mo.
Vyond is a web-based studio for creating animated explainer videos. You can choose your template from three styles: temporary, whiteboard, and business friendly. From there, you can customize the characters, objects and voice-over options to create the perfect video.
Video Marketing Platforms:
Wideo:
Payment Model:                      Subscription
Price:                                       $19.00/mo. – $79.00/mo.
Wideo offers a simple, yet rich, editing studio that allows even the most inexperienced user to create a smooth animated video. With their premium plan, Wideo also allows users to access the presentation mode and include interactive elements in their videos.
Video Editing Tools:
Adobe Premiere Pro CC:
Payment Model:                      Subscription
Price:                                       $20.99/mo.
Adobe Premiere Pro is one of the staple video editing software with a steep learning curve. If you have the patience and determination to master this tool, you will be able to edit videos with limitless possibilities.
Pro tip: Don't preview your edits in its highest quality. You can reduce the preview quality up to ½ or ¼ for HD clips, and ⅛ or 1/16 for 4k and above clips. Not only does this reduce the burden on your hardware, it has zero impact on the quality of your final video.
Filmora Pro:
Payment Model:                      Subscription; Pay Once
Price:                                       $89.99/year; $149.99/license
Filmora Pro is a decent choice for casual video editors like marketers. Compared to professional-grade editing tools, Filmora Pro is much easier to operate since it doesn't require technical understanding to use. They offer a lifetime plan for $149.99 for those who aren't a fan of subscriptions.
Vegas Pro:
Payment Model:                      Pay Once
Price:                                       $499.00/license
Formerly known as Sony Vegas, this video editing tool is targeted for professional video editors. It has a variety of built-in effects and frame-by-frame editing which are suitable for advanced filmmaking.
Interactive Videos:
TouchCast:
Payment Model:                      Subscription
Price:                                       $29.00/mo. – $59.00/mo.
TouchCast offers an interesting combination of live broadcast and interactive video. It offers various features such as background removal, comments moderation, interaction analytics, and many more.
Snapchat:
Payment Model:                      Free
Price:                                       Free
Snapchat revolves around ephemeral videos with various interactive features like replies, links, and stickers to help you engage your audience with personalized experience.
Viewbix:
Payment Model:                      Subscription
Price:                                       $10.00/mo.
In addition to creating interactive videos from scratch, Viewbix allows you to create an interactive layer on top of your existing videos. There are plenty of apps that can be integrated with it including Skype, Google Maps, RSS Feeds, etc.
Sound Effects Library:
Shutterstock:
Payment Model:                      Pay Once
Price:                                       $49.00/item – $419.00/item
Shutterstock is arguably the largest stock-anything site with more than 14 million stock footage, music, and images available in their library. If you know you're going to need many stock content, you can't go wrong with Shutterstock.
Pond5:
Payment Model:                      Freemium; Subscription
Price:                                       $0/mo. – $999.00/mo.
Pond5 has over 500,000 stock videos, 30,000 sound effects and music, and 700,000 images that you can download. Downloading some of them will require you to pay for their subscription plan, but the free downloadables are already amazing.
Audio Jungle:
Payment Model:                      Subscription; Pay Once
Price:                                       $1.00+/item; $16.50/mo.
AudioJungle is a one-stop stock music marketplace with arguably one of the cheapest prices out there. Its wide range of tracks and sound effects make it suitable for any type of project you might be working on.
Pro tip: Instead of buying individual tracks and sound effects, consider sharing the subscription fee with friends who need a steady supply of WordPress themes, presentation templates, stock photos, design assets, stock videos, and/or ebooks.
For the full list head on over to the video marketing list of tools at Breadnbeyond's page!