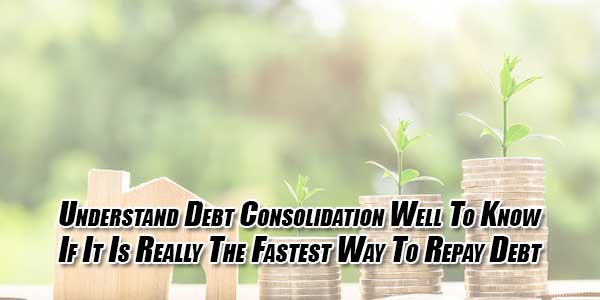 In many situations you will need to borrow money from different sources such as a traditional bank, other lines of credit and even from online money lenders to meet your financial needs, personal or business.
When you do so, you automatically enter into an agreement with your creditor. This agreement says that you will need to repay your creditor the amount borrowed along with an additional amount called interest which you pay being given the privilege to use the amount of money that belongs to someone else.
There are different ways in which you can pay off your creditors this sum and get rid of your debt. The first and the most obvious way is to pay the monthly bills as agreed and as it comes on time. However, in case you face any difficulty in paying back and fall behind your debt repayment schedule you can take on these three ways:
Get in touch and negotiate with your creditors for a reduction in the amount you need to pay, a process called debt settlement
Research well and apply for a debt consolidation loan if you find yourself struggling with multiple debts and combine all these into one and continue paying the new loan only or
Contact and consult a bankruptcy lawyer and file for either a Chapter 7 or a Chapter 13 bankruptcy as per the given condition.
However, if you know how debt does consolidation really works and compare the debt consolidation ratings with the other available debt-relief options, you will know why it is considered to be the fastest way to get out of debt.
An Example To Explain:
Assume that you have a $30,000 unsecured debt. Also assume that this debt includes two parts such as:
A two-year term loan for $10,000 taken at 12%and
A four-year term loan for $20,000 taken out at 10%.
When you calculate the interest on each and add it to the principal amount your monthly payment on the first loan will come up to $517and that of the second term loan will be $583. This means, in a month and in total you will have to make a payment of $1,100 towards your debt.
Given such a situation which may seem a bit tough to you, you may get in touch of a company that promises to:
To reduce your monthly payment to $640 and the rate of interest on your loan to 9% per month after negotiating with your creditors and
Also promises to roll both your loan together into one single monthly payment.
This may sound great to you thinking that you will now have to pay $460 less each month towards your debt. However, here is the downside to this and this is quite alarming. It will now take you six years to pay off your loan in full. Yes, six long years!
Well, if that is not bad enough for you, then you must also know that as per the given example there are more alarming things in store for you.
Eventually you will end up paying out $46,080 to pay off for the new loan instead of paying a total of $40,392 for your original two loans even if the rate of interest is lowered to 9%.
This means you pay $5,688 more as a cost of your 'lower payment.'
After all these facts and figures, there are only two words that will summarize and explain this situation: Rip. Off.
It is for this reason you should understand debt consolidation well and compare it with all other available options to know whether it is really the fastest way to get out of debt as most people claim to be.
The Basics Of It:
In order to make sure that you make the most of the available options especially debt consolidation, you will need to know the basics of it and get your numbers right. If you want to consolidate your debts or want to work with a debt settlement company for that matter, what you actually do is you treat the symptoms of the money problems that you are facing currently. This means just like all other borrowers facing similar problems like you, you never get to the core or the root cause of the issues to find out why these are creating such problems in the first place.
Ideally, you do not need to consolidate your bills only but instead, you will need to delete your debts as well. In order to do that successfully, you will need to follow a few basic principles such as:
Firstly, you will have to change your put look and concept regarding debt. The way you view debt is the primary factor that will determine whether or not you will be able to get rid of it ever or how fast you will be debt-free. According to the experts, personal finance is all about 80% consumer behavior and the remaining 20% involves their knowledge about money management and debt.
Secondly, you will need to design a strategic plan and follow it strictly to come out of debt. If you do not know how to do it you can take help of a professional debt management agency or an individual to craft the most suitable debt and money management plan. This plan will provide you with the power to work your way out even if you have landed onto a pile of debt simply due to your wrong choices and financial decisions.
Thirdly, you should be diligent and have a lot of patience to get rid of your debt successfully as no solution to it is a quick fix. You must also believe that it may not come in the form and nature as you want in terms of a better interest rate, debt settlement or taking out another debt consolidation loan.
It all depends on the current situation and whatever the solution is you will need to roll up your sleeves, make a proper plan for your money, and take immediate and proper action!