In simple language, customer experience goal is the emerging issues all over the world. It is the combination of different experience that customer gets before, during and after purchase. The delivery of the brand promise in the mind of customers. With high penetration level acquiring the new customer in telecom sectors is quite costly. According to the Coztel, 25% of the acquired customers remain with the company. It creates a massive gap in the revenue sheet of telecommunication service providers.
Firstly identify the customers from the subscriber base who gives you more revenue. And secondly, manage the customer experience which provides them with add-on value to them. For identifying the customers who are beneficial for the company should be segmented. It varies according to the company. The customers are segmented on a different basis like customers who have used more than ARPU are classified as high-value customers etc.
Benefits Of CX Research Companies:
With different more companies operating online, customer satisfaction that has become more important than ever before. Online sites may make or break a company that is why every company needs to ensure. They are taking customer experience research seriously and identifying what their client think of their facilities and products. They can work on that to make more improvement on a daily basis.
There are small things you will want to work on with your customer experience research companies. They ensure you continue to enjoy the benefits that they can provide. You have to regularly analysis that your performance.  This is where your provider will come into play. They will able to monitor your customer experiences and put that into a detailed report. Where you can see the company is improving or falling short and giving you the essential areas that you have to work on.
Why Is Customer Experience Management Important?
Several businesses are turning to handy software and smartphone applications. This is for the help them to streamline their customer experience goals better and better. The main point of this type of software is to put the customer in control and also keep them informed at all times in real time. Usually, the customer will experience faster and more straightforward, more comfortable services. They will feel more in control of the question.
The type of software is especially helpful to business. They use to call center to process customer queries as the software may be integrated into an existing system. Customer details, transactional data, and records of previous and all calls are recorded. So, the employee dealing with the customer knows all about any existing customer services can deal with inquiry effectively.  This is, in turn, will improve your customer experience with increasing services level, delivery success rate fix time etc. software for field service workers suitable for use in IT, engineering, retail, sales, delivery and other distribution and tailored to suit the needs of your business depending on the type of service that you offer your customers.
Customer experience goal may bring order, focus, and efficiency to your business. It allows you to concentrate on keeping your customer happy. Ensure you start managing your customer experience now and bring a sense of unity for your entire operation. With saving valuable time and making your customers come back to you time again.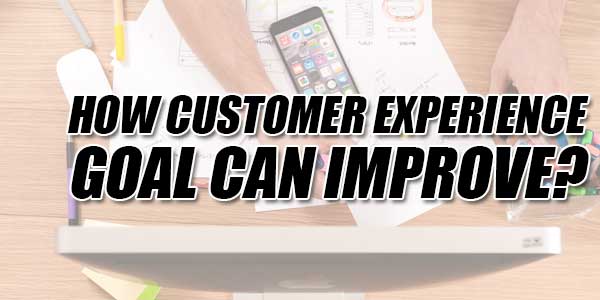 5 Fast Ways To Upgrade Customer Experience:
If you are looking for new ways that on how to upgrade your team's performance and be the best of contact center agents. So, here are the 5 most ideas on how to enhance customer experience goal with call center agents.
1.) Set An Ideal Experience:
For your management and company, set realistic goals to achieve. Involvement on what you want your clients to experience. If they call your company. Do you want to seek out the issues within the minute? Do you prefer focusing on the customer satisfaction? Think about it carefully and motivate your management to reach that standard.
2.) Know The Script:
Some will say keep the writing, or some will say ditch it. But with the highly recommend to know and familiarize with the text. You should have to memorize word per word, be aware and understand the procedure like the back of your hand while being accommodating giving that human interaction experience.
3.) Review Analytics And Interactions:
Make sure that the only trusted quality of the customer experience is given. Recorded random calls and reviews with your rating and analytics. Checking the analytics will do as same, no harm and even help you pinpoint that area to improve on the most for more likely consequences.
4.) Integrate Multi-Channel Support:
With technology, artificial intelligence is quickly advancing, and it is time to teach agent's new ways of providing the customer support. Having training and classes that how to operate chat and text support, would be an advantage. This is where a digital meets with the traditional customer service significant trend in customer experience.
5.) Reward Hard Work:
If you may see your team-lead and agents that working hard to achieve improvements in customer experience, so they are doubling the effort needed. Reward them. It would be as simple as giving chocolate, or some offer a way to encourage them to do better.  You may know what they say happy agents that are productive agents.
There might be new, different ways on that how to improve customer experience. This is annual industry conference that on how to deliver innovative customer experience. But for now, there are the finest and easy ways to upgrade the customer experience goals.
How Is Customer Experience Different From Customer Service?
That's how the two different are; for example with using CRM software, and you may view customer purchase history and predict future needs and before the customer knows they need it. With the ability to predict a future they will let you be proactive and attentive, it means you can do like;
Provide a related product that based on purchase history
Generate and deliver targeted email marketing campaigns
Understand view of the customer with 360 degrees.
No doubt customer services are still relevant as ever, and it's no longer the sole focus of the customer experience. So, now the customer experience brings a new way to strengthen customer relationship with technological breakthroughs.
7 Factor To Create A Customer Experience Strategy:
Create a clear customer experience visualizations.
Understand that who your customer is
Make an emotional connection with your customer
Must capture feedback in real-time
Use a quality framework for development
Act upon regular employee feedback
Measure the ROI from delivering a customer experience
In the end, the customer experience goal, as customer expectations are higher than ever. As word of mouth travels fast.  Customer becomes even more empowered, it increases the importance of the customer experience. The experience of the customer is an area that is needs constant care and with a greater focus on customer strategy companies that will realize a positive impact on customer loyalty that higher retention and increased revenues.