You have started your job search and the recruiters are looking for the best. Acknowledge the fact that you have to compete with some brimming talents so a more strategic approach is required. The first step is to make a strong resume. You might have heard about the term "personal branding" that is quite in trend these days.  What is this personal branding and what it has to do with your resume?
Personal branding I would say is a more sound way opted by the job industry to select the right candidate. Here you brand your own self through your resume. Personal branding is all about marketing yourself where you display your presence in a more specific way. You let the recruiters know you as a brand that is successful and worthy to hire. This is a time-consuming process and requires a lot of effort because things can't be built overnight. You have to highlight yourself in the eyes of the employer. You have to show him why you are the best fit and why should he hire you?
The first thing that reaches the recruiter is your resume so it becomes the most convenient medium to showcase your talents and establish you as a brand. A well-presented resume is all that you need. Follow these simple and advantageous tips for a stronger resume and personal branding to land up in a deserving job.
1.) Identify Yourself:
Before you start writing your resume know yourself well. Identify your positives, your strengths, and the areas you are best at. What is that one thing unique about you and what extra talents you possess? You do not need to follow the crowd but you have to stand out from the crowd. Assess yourself and establish your own style. It is very important to have a clear mindset about your goals. What do you want to achieve in life will decide your future opportunities. So, think deeply and act accordingly.
2.) Research The Employers:
Hit in the right direction of your goals. Conduct a proper research on your employers, the industry you have to apply for and understand its needs and demands. Mention the very points in your resume that your employer is looking for. For example, if it's a travel based company, show them that you are a traveller, give them a link of your travel stories. If it's an entertainment industry, mention your cultural achievements when in college, or an event you handled in your university. This is how it works.
3.) Have An Online Presence And Include All Your Contacts:
In this social world, before you get shortlisted, the recruiters have already scanned your social media profile. So, include the links to all your social media profiles such as LinkedIn, your personal blog, pages, websites etc. to count your individuality. Also, mention all your contact details like your phone number, email, and postal address so that the employers can find it easy to get in touch with you.
4.) Select The Right Format And Organize Well:
Organizing your resume is very essential. Keep a basic and similar font throughout to make your resume readable and neat. Chose the recent format and use bullet points or number to quantify your achievements.
5.) Write A Profile Statement:
Make this your opening statement where you write about your objectives and goals as you apply for the job. Keep it short and specific matching the job demand. Remember you are kind of selling yourself, as the demand so the supply. You are the product and the employer is your market. Give a headline to your resume with limited characters, or write a short profile summary talking about your background and work expertise.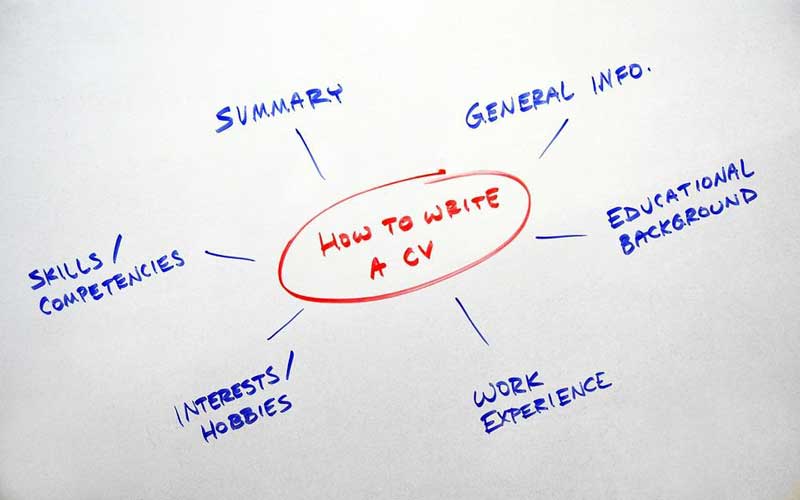 6.) Use Keywords:
This is a useful trick to get shortlisted. Borrow some keywords from the job description and insert them in your resume. For example, if the job description says, "the candidate should have knowledge of MS Excel," use this keyword in your skills area. I would say simply copy paste a few terms so that when your resume is screened, the employer finds the right choice in you. This increases your interview chances. You can also include the same keywords either in your profile summary or cover letter because that's the first line catching attention.
7.) View Resume Samples:
Google different resume samples and chose the one that suits your profile. Learn about various resume formats and know what kind to use in what industry. Checking out resumes is going to tell you exactly what to include and what to exclude. Having knowledge about the trending resume patterns, followed in different countries, can facilitate your process of writing white-collar resumes.
Professionals and students can also opt for expert help to highlight their maneuver in a subtle manner. These specialists assist in providing Assignment help that can let you submit your research work, college assignments, or any official project online for a greater exposure. Your personal skills and attainments, when highlighted, make your resume better recognizable. The more achievements you underline, the more are your chances to be an outstanding brand on your own.
8.) Write About Your Experiences:
Don't just write the names of your previous companies but also give a brief about your key responsibilities there. A recruiter wants to see your previous work, so show him what you actually did. Here too you can use a few of the keywords from the job description to convince the employer.
9.) Awards And Accomplishments:
Set a hierarchy in your list of achievements and experiences. Write down the most relevant accomplishment first followed by other key experiences. You ought to prioritize your procurements to balance the resume. Give details of any live project that you handled, or a workshop you help, or some training you delivered. Even boast about the friendly football match you played, or a badminton tournament you won, or some NGO you volunteered for. Give it all.
10.) Customize Your Resume:
Whatever the demand of the job is, customize your resume based on that. This consumes time but can offer you the desired job according to your qualifications.
Finally, do an edit check and without a glitch mail your resume to the desired employers. Send it as an attachment in the e-mail. Congratulations! You just sent an exemplary resume to your employer.