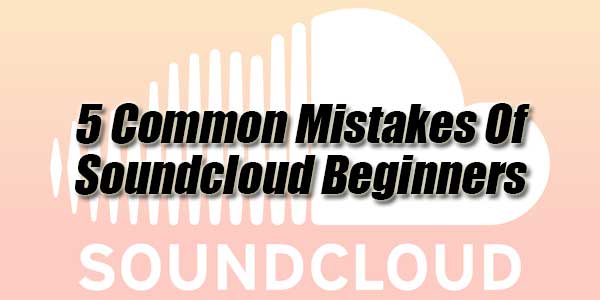 SoundCloud is an audio distribution platform that originated from Berlin, Germany. The online platform allows musicians and other users to record, upload, promote, and share their own created music with the community. Also, the users can get a feedback on their music, as well as interact with their fans and other people in their field. Nowadays, many musicians have found SoundCloud beneficial as a marketing tool. This article will spotlight the 5 mistakes that almost all SoundCloud beginners make and how to remedy them.
5 Common Mistakes Of Soundcloud Beginners:
1.) Poorly Organized Track Names:
This may seem a minor consideration when uploading your music on the SoundCloud. However, proper organization and presentation of the track name are very crucial as the fans are not interested in only listening to your track. They want to know the name of the song as well as the artist. Remember the first impression always matters, and this as well applies here. Do not leave the listener confused between the name of the song and the artist.
The appropriate naming format for music in the SoundCloud platform is Name of the Artist followed by Name of the Song. Always use this format to avoid any confusion.
2.) Having A Dormant Account:
A dull account may be an impression that you are out of the game. It is obvious that if you ignore your account, your followers and fans will definitely ignore it. Give your account the first shoot by always keeping it active. This does not mean that you keep uploading new songs into your account. You can update your account with live songs, interviews, covers, B sides, outtakes, and remixes. This does not have to be something related to your official song.
Keeping your account active doesn't mean that you upload every song you have recorded. This can be a great mistake as fans are more likely to listen to one or two of your tracks at a time. Likewise, avoid uploading unfinished stuff on SoundCloud if you really want to enhance your music career.
Don't let your followers forget about you. Make your account as interesting as possible even when you are busy working on new tracks. Let your fans know that you still exist. A lively and engaged account is more likely to attract and foster a community.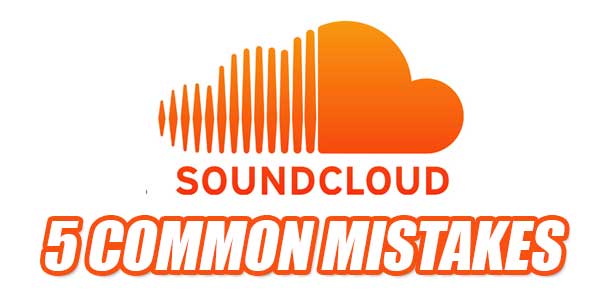 3.) Cut And Paste Statement Replies:
The cut and paste replies to your fans comments and likes can be annoying. A state where your fans and followers are busy praising your music and all you can tell them is a simple 'Thanks' sound rude.
Remember, SoundCloud is a platform where you share your music and get feedback for your work. Always be polite and appreciative enough to say 'Thank you Martin for your like' or a simple 'Thank you Martin'. Otherwise, you will be all alone with your music and a deserted account. It is important to be always genuine and pleasant in your replies and comments even when the feedback sounds nasty and negative.
Avoid screaming for attention. Simple elaborate and practical comments will work out. Let your every comment add value to your profile.
4.) Inconsistent URL Platforms:
Always match all your URL names in all your social media accounts i.e. Facebook, Instagram, Twitter, YouTube, and SoundCloud.  This is how it should appear assuming your username is ' sambidee':
com/sambidee
com/sambidee
com/sambidee
com/sambidee
com/sambidee
This will not be only beneficial to your followers but also to the SEO in the entire internet. It is also important that you link your account in many different ways i.e. to and from the internet.
5.) Not Including Your Music Genre In The Keywords:
SoundCloud has a tool that groups famous, cool, and trending tracks by genre. In this way, fans of a specific genre can easily find you if you are famous and trending. However, SoundCloud can only be able to do the grouping when you avail the genre of your music. This should appear as the first listed keyword. If you want to keep your fans out of the hustle of finding your tracks, always do this. You can also include other keywords like the original artist record label, associated artists, and any other relevant keyword and information.
Conclusion:
SoundCloud is a platform that has enabled many relevant and famous musicians to market their music, gain more popularity, and boost their music career. For beginners, you can get there too. But the question is 'what are the dos and don'ts while using this platform?' By integrating the above basic essentials on your SoundCloud consistently, you will definitely become a star with a cumulative fan growth. Likewise, you ought to enjoy the SoundCloud community and see your music thrive.