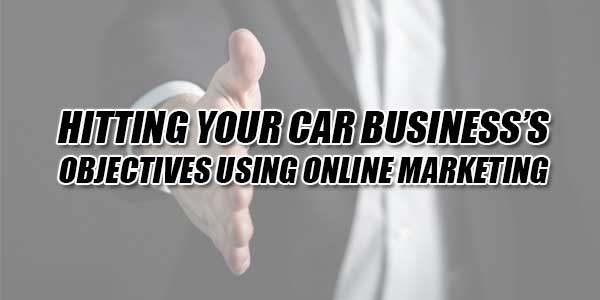 The automobile industry has come a long way — and not just in terms of technology. At the beginning of the millennium, those looking for a new car would typically go around town trying to find the right model at the right price. But according to research from Google, the customer journey has become much less physical. Questions about product affordability, suitability, and ranking are increasingly being resolved during online micro-moments.
If you're in the automobile sales market, the message is clear: with car shoppers spending less time exploring dealerships firsthand, digital marketing is gaining more importance in capturing their attention and business. To make the benefits of online marketing more concrete, let's consider some common goals for auto dealerships — and how digital tactics fit in.
Establish A Presence:
A 2015 AutoTrader study found that the Internet was twenty times more influential than any other media source for millennial and Gen X car buyers. Since then, its influence could only have increased among those with PCs, smartphones, and fast data connections — everyone who can afford a car, basically.
As people let their fingers and their preferred search engines do the legwork, car dealerships can no longer rely on impressive signage and traditional advertising to be seen. The importance of online marketing is rising; if you don't have a website, you need it yesterday. To be truly competitive, you've got to make sure that it meets high standards of search engine optimization and mobile optimization. User experience design is also key as your site will be the first point of contact for most, if not all, of your prospective buyers.
Attract Willing Prospects:
No dealership can expect people to do business with them immediately, especially at the early research stages. Online marketing for the car product niche is a long game. Even if you've got the best deals in town, the vast majority of people will make their decision only after looking at different options and providers.
To maximize your sales opportunities, you've got to be visible to people at their most receptive. That means judicious use of paid ads; native and display advertising can help you get in front of specific audiences and demographics. With website cookies (and in Facebook's case, pixels), it's also possible to show ads to people who've visited your website before. Tools like these make it easier than ever for you to be the welcome interruption to people as they decide on their new car.
Build Authority:
For people looking to make informed decisions, model, price, year, and make are just the bare minimum requirement. They've also got to know the features that can address their pain points, as well as make life convenient and enjoyable. In other words, they need to know what to expect from a vehicle, and how well it would fit into their lifestyles.
That's where you can leverage content for automotive lead generation: blogs, white papers or videos. Quench people's thirst for information with reviews, product comparisons, and industry insights. For these assets, clarity and accuracy are non-negotiable. But when you're marketing cars for niche audiences, you can't rely on run-of-the-mill materials and tactics; demonstrating authority and expertise is critical.
Engage Your Audience:
You may think social media is optional in marketing for car industries. But with the rise of ride-sharing services, fewer people than ever are thinking about owning a car. Your market is shrinking, so you need to pull out all the stops. Beyond establishing authority, creating an engaged community gives you an opportunity to keep in touch with people and listen to their concerns.
Just setting up a Facebook page can provide you with a valuable tool. You can share articles and post original content, then gauge your fans' opinion by their reactions. It's also a place for satisfied customers to leave good reviews; even bad reviews are valuable feedback. Plus, Facebook says 53% of people are more likely to shop with a business that they can message directly, and 56% of people prefer to message businesses rather than call their customer service hotline.
Drive Return Traffic:
Staying top-of-mind with your audience is a difficult balancing act. Having high-quality blog posts doesn't mean anything if you only publish four times a year. On the flip side, coming out with a video every week sounds good, but if it doesn't add much value for your audience, then it's just noise as far as they're concerned.
So how relevant is content in automotive marketing? It all depends on consistency. By creating a tight content strategy and implementing it across all your channels, you create a base of users who are loyal and will return. Car reviews are a particularly vital resource; people who read reviews in the car-buying process tend to come back for more within the next few months.
Expand Your Footprint:
Consistent quality content, a superior website, and an engaging social media channel don't just encourage people to come back; they also lay a path to growth. People like sharing great experiences, and if you go above and beyond, you'll have ambassadors to vouch for you. Because very few car buyers tend to become repeat customers, referrals are vital for car dealerships to sustain revenue.
In the era of online marketing, being referable means having shareable digital assets. Your website and social media pages are critical pieces in your quest for word-of-mouse. Putting social media buttons in your on-site content can also encourage those who want to pass it along. With the right choice architecture, you can get people who visit your site for the content to leave valuable contact information.
Nurture Leads:
It may not be sexy, but car dealerships can't ignore email marketing. It all has to do with lead management; sales teams that focus on the short term tend to abandon customers who don't sign on the dotted line today. But with a little time and effort on follow-ups, you'll find those people will be more likely to come back when they are ready to buy — rather than take their business to a competing shop.
Assuming you've set up your online properties optimally and have strong supporting processes on the sales floor, generating a contact list shouldn't be difficult. From there, you can set up an eDMS or email newsletter to target your entire pool of prospects, then monitor open and click-through rates to identify strong prospects and segments for the sales team to follow up with. Of course, managing mid-funnel leads this way requires strict coordination, especially when you have sales and marketing teams with overlapping functions.
With these digital marketing tactics at your fingertips, you'll have more ammunition in the war for customer eyeballs and dollars. You may find some are slightly more effective than others, but there's no such thing as a silver bullet, you can't expect a significant bottom-line impact from just one channel. Cars are high-involvement and high-investment products, so you've got to hit multiple customer touch points.