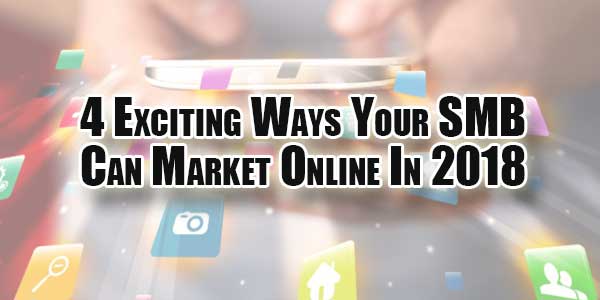 Now that 2017 has passed and ushered in a new year, it's the perfect time to research how your small business could expand its internet-based marketing efforts and try things you hadn't considered before. The list below offers compelling possibilities that could enhance your effectiveness while keeping the audience interested.
1.) Live Stream Grand Openings Or Product Launches:
In 2017, video proved to be essential when it came to marketing in 2017. Live video streams could help you include portions of the audience that can't come to in-person events at your business, such as the opening of a new location or showcasing a new item to the market for the first time. However, by using a smartphone with a video camera, you can fill viewers in on all the action no matter where they are in the world.
Experts are confident live streams will continue to gain popularity in 2018. That could be especially true depending on the age of your target market. Statistics indicate 63 percent of people 18 to 34 years of age watch live-streamed content regularly. Social media platforms don't just offer live stream capabilities, there are a variety of tools that businesses can use to reach a younger and digitalized audience.
2.) Put A Greater Focus On Data-Driven, Personalized Marketing:
Today's consumers are fed up with generic marketing campaigns that don't speak to their needs. That's why you should decide 2018 is the year you put more energy and financial investment into personalized marketing facilitated by collected marketing statistics.
Although data-driven marketing and personalized content and websites aren't new concepts, they'll be easier to apply in 2018. The costs associated with the necessary platforms and other tools are more affordable than they once were, which makes this option open to you even on a tight budget.
Personalized marketing lets you deliver targeted messages at certain stages of the online customer experience. Plus, the data you collect can also be implemented while developing new products or services and preparing to market them through the internet. You may determine a particular plan in mind doesn't fit audience demands, then change course before wasting money.
3.) Network With The Chamber Of Commerce Or Business Development Authority:
It's also smart to look at ways to team up with other entities for more effectiveness in 2018. One of the ways you could do that is to get in contact with organizations in charge of supporting businesses in your area.
In Cumberland Valley, Pennsylvania, the Cumberland Area Economic Development Corporation has a webpage dedicated to news about local businesses. Have you considered reaching out to the respective body in your area to provide press releases when notable things happen in your small business? If not, you're missing potentially valuable opportunities.
You might publish the press release on your website first, and that's okay. However, people start to see your business as a more authoritative one if they notice the same content published by a local business organization.
Also, the authority you get in touch with might invite you to small business fairs in the community or similar events designed to let community members know how to support local establishments. By making contact soon, you could put your company on the list to receive invitations for the rest of 2018 and beyond. Then, you can mention your company's participation at upcoming gatherings on social media for additional traction.
4.) Let Your Audience Members Become Micro-Influencers:
The past few years have been all about social media influencers, some of which have millions of followers. Although those mega influencers will still be present in 2018, people emphatically care about trust — and they may feel it's not easy to show it towards individuals who are such prominent forces online. Whether the influencers are celebrities or not, skeptical consumers might wonder, "How much is the person getting paid to say this product is great?"
However, you can turn your brand's online followers — or people who'd likely be interested in what you sell into micro-influencers. Start by identifying appropriate groups or visible individuals. For example, if you sell cruelty-free or all-natural makeup, you might reach out to the owner of a blog with a regional reach who regularly features posts about sustainable, responsible living. Then, negotiate for a post or another kind of promotion in exchange for free samples or other perks.
The blogger will probably disclose the arrangement to readers, but that's not necessarily a downside for your business that could erode trust. Assuming the person behind the blog has a solid reputation for distributing reliable information, readers should realize the individual wouldn't willingly associate with a product that wasn't genuinely worthwhile.
Take Advantage in 2018:
By using these techniques to connect with an online audience, it's easy to revamp your marketing efforts this year. Before long, you could notice impressive outcomes that make you feel glad about branching out this year.