The gaming industry has been around since time immemorial. Even in ancient times, there were special gaming houses where men and women could participate in gambling activities.
Throughout history, gaming has undergone many changes, especially in terms of laws and regulations. But the essence has always remained the same, the enjoyment of betting and the emotional rollercoaster ride of winning and losing.
In recent times, the gaming industry has undergone a revolution, largely thanks to technology. The Internet has made it much easier for people to choose the right game to play, and the popularity of mobile gaming has significantly driven recent evolution in the gaming industry.
Here are just a few of the changes that the gaming industry has undergone: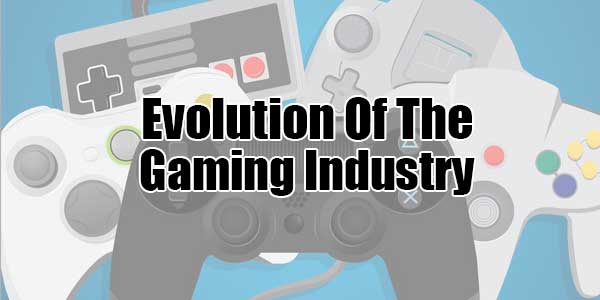 Legal Issues:
The Internet has taken the gaming industry global, and this is a hot topic of debate when it comes to local, national, and international laws and legislation regarding gambling. Countries such as the United States have made progress with regulation, but in other areas, such as Europe, the industry still remains unregulated.
Mobile Gaming:
Use of mobile devices has dramatically increased in recent years, and the majority of internet browsing is now done via mobile devices. Mobile gaming has also exploded, thanks to the numerous mobile gaming apps now available. This has been one of the main drivers behind the recent dramatic growth in the gaming industry, as an estimated 40% of internet users use mobile devices.
Lower Stake Games:
Because gaming companies can tap into such a large market nowadays, it's easy for them to keep rates and stakes much lower, and hence attract even more gamers to their platforms.
Multi-Player Games:
There was a time when online games focused on a single player, but now multi-player games are more popular than ever, especially MMORPs. Such games also provide a whole new social dimension to gaming.
Upgrades:
Stiff competition in the gaming industry forces gaming companies to constantly try and stay ahead of competitors, as well as experts, and punters, who develop effective strategies to beat the system; this leads to a constant review and upgrading of systems.
The Internet has revolutionized the gaming industry in ways that are still not fully understood. It has had a real impact in social, legal, and financial aspects of our lives. It has also ensured that other gaming-related companies and websites can grow exponentially, such as tipsters, online gaming magazines, and gaming review blogs.
A simple Google search for gaming related keywords reveals the extensive and diverse nature of the industry, which gives some indication of the future potential for even further development and evolution within the gaming industry.