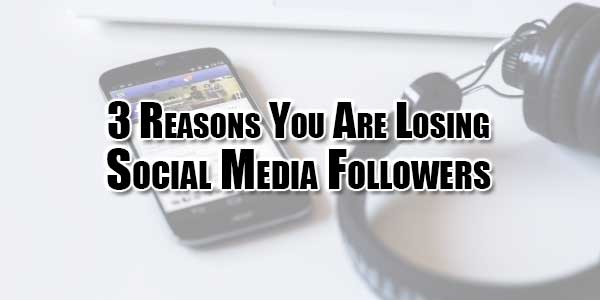 You've worked hard and/or paid good money for those social media followers. And now they're suddenly deserting you in droves. That isn't what's supposed to happen! How dare they just go like that? Well they dare and – what's even worse – it's probably your fault. So stop blaming other people, suck it up, find out why and change your social strategy media strategy to plug your social media-follower leaks!
1.) You're Fish-Slapping Them:
Sure, you want to keep your followers up to date. You want to make certain that they stay aware of what's going on. That does not mean that your posts can be half of the stuff that is on their wall if they log in, however! Nobody likes it when the other stuff they care about is being drowned out by the constant cacophony that is a brand's marketing campaign.
And if that is you, you can be sure that people will desert you sooner rather than later. So stop. A lot of ink has been spilled on how much you can publish on the different websites – with different platforms having different limits. For example, on twitter you can post a dozen times a day without causing too much of a ruckus, while on Facebook you really should be aiming at around four or five per day.
Want to post more often than that? Then have several different social media platforms. Just remember that there are different expectations about how you post on the different platforms, so be certain that you don't just cut and paste from one to the other. If you do that, then your users will quickly enough figure out what you're doing and feel that you're not fully committed to the platform to which you pasted the content. That is a good way to lose engagement – if not users outright.
2.) You're Forgetting The 'Social' Aspect:
Social media is about creating communities. For that reason, if people engage with what you're doing, return the favor. Like what they're doing. Comment on and share what they're posting themselves and in general find ways to reciprocate their engagement with your brand.
The more influential they are, the more you should do so – both because it will increase your reach and because those of us who have a lot of influence have the expectation that people will engage with us. This means that if you don't, they'll be far more likely to unlike and head off into the sunset, which is obviously not what you're after.
If, however, you do engage with them consistently and continuously, you should find that they will become more engaged with you as well. This is called the norm of reciprocity, which is actually very strong in most of us. This is the idea of 'You scratch my back, then I'll scratch yours. It goes further than that, however.
Even unsolicited back scratching will often provoke the norm of reciprocity. And so, if somebody influential has demonstrated even a modicum of interest in your brand, be sure to like and share their content regularly, as they'll more than likely reciprocate.
3.) You're Ignoring The Numbers:
Are you using the analytical tool available to you, like Google Analytics and Facebook insights? Because if you're not using them then it's going to be hard to keep your users happy – particularly because everybody else does.
How does analyzing the numbers keep your followers happy? For numerous reasons.
It makes certain that you know what they what they like, thereby allowing you to create more content in that direction.
It will show you where you've got a lot of people bouncing away (which means not clicking past the first page), which shows you that your content isn't what they thought it would be or that your site is hard to navigate.
You can figure out whether your content is easy to navigate with different gadgets.
And so much more
Without using these tools tinkering with your website is like working on a car engine without ever trying to start it or asking the person who brought it in what is wrong with it. Sure, occasionally you might find the problem, but it's going to be hard going. Wouldn't it be much easier to know where the problem lies and then work on it from there?
Last Words:
In fact, getting your social media right is a lot like fine tuning a car engine. It's a constant process of tweaking, trying and adjusting to get it right. You'll probably not do so right from the start. It might take you dozens of attempts.
At the same time, keeping it up and not giving up will pay off in the long run. Not only will you stop bleeding followers like motor oil, you'll find that the machine runs smoother and smoother. From there you'll find that they stop moving away and start coming back.
They'll engage with, like and share your content. Your reach will spread and before you know it you've got exactly the social media engine that you want. All you've got to do is keep going, keep looking at the numbers and focusing on what your users want from you, rather than what you want from your audience.