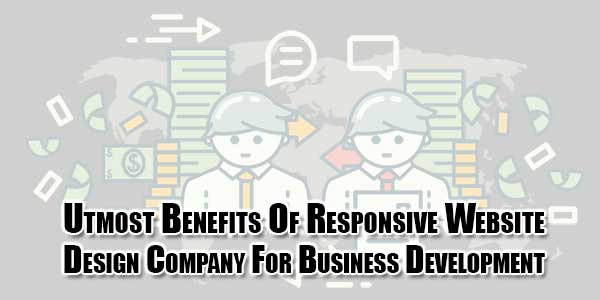 Keeping your business alongside the new technological technique is important for the growth of business in the market. The increased switching to Smartphone's in place of desktops shows the changed in customer's manner of accessing information on the internet.
In this competition world, the businessman is struggling with the fickleness of the changed strategies of marketing and to cope up with this difficulty most of the companies are available with easy solutions to benefits the entrepreneurs. Professionals always update themselves with latest technologies and this is the reason why businessman prefers to hire the Best Website Development Company for their business.
Business Development Is Now Completely In Hands Of Website Designing Company. Why?
The Online marketing approach is the best practice followed by most of the entrepreneurs to enhance their business. However, this is also analyzed that more than half of the population is increasingly using the internet on mobile phones. A website is needed not only to draw attention but also makes customers satisfied by having a responsive design. Visitors enjoy the experience of using responsive design, more they comfortable, the more come back. Even mobile friendliness factor and page load speed is included by Google in its ranking algorithm that is why the companies were focusing more on responsive design strategy. Business growth all depends on the crowd and if the crowd is more shifted to the responsive website so why you would waste your money on creating the mobile website.
#) Saving Time And Money:
Development Time and the cost are reduced due to not spending any extra time and money for building the mobile site with the desktop website. Your business is totally optimized for all types of devices, whether it is Samsung galaxy, the iPhone, the iPad or mobile tablet with having only one website and it cost minimum and save the cost of building of two websites.
#) Better User Experience:
A Responsive website automatically adjusts to any device screen size and don't waste any time with shrinking and zooming your screen. Improving usability is the important factor in grabbing more traffic to your site, generally, the visitor quit your site because of the difficulty they faced to use your site and this is definitely the advantage of your competitor's site. The technology should be invented for the website which response automatically to the users' preferences. This invention would eradicate the need for a various development phase for each latest gadget launch in the market.
#) Improved Ranking In Google Search:
Responsive Design saves you from Google penalization, as Google penalized if you have content duplicity, but responsive benefits you by optimizing the content for only one link. For all devices the URL structure remains constant whether it is iPad or desktop responsive site design, it makes simple for Google crawl, organize content and index.
Responsive web design helps in reducing page load speed. Google has already declared that site speed is included in web search ranking and browsers don't waste time redirecting to a mobile version. Google helps you in identifying your website speed and even shows you the error which you make your website speed to slow. Various tools are there and the most popular one is Mobile Friendly Test page that will test your website.There are some sites where you can check the speed score of your website and can see the difference in responsive and normal website speed through this link https://developers.google.com/speed/pagespeed/insights/ and https://varvy.com/ .
SEO is the top task for improving website ranking and to maintain all back links from genuine sites are the lengthy process but responsive website maintains all back links by directing all visitors to a single website. All the on-page work has been saved while using responsive design. Management of SEO campaigns is easy in responsive design as there is no need of managing two SEO campaigns separately.
If your SEO campaign is running, a non-responsive site will delay in improving your search ranking. A responsive website will improve your search ranking and help you in targeting more audiences.
#) Easy Functionality:
Responsive design satisfied the customer's requirements and due to its functionality, it helps in generating more revenue by giving a better experience to shop online. Many companies have noticed the increased sale and profit of their business by simply switching to responsive design.
Simple website design will take a long time in building and even people don't find it user-friendly, so adopting the latest trend is the need of the hour. Responsive design takes less time to create and have more benefits than a stand-alone mobile site.
With the increase in the usage of new technology, people are more shifted towards the comfortability. Everybody is busy in his schedule, so they are always in search of options to get rid of those things which trouble and waste their time.
Conclusion::
The market is now online, things which give you better look and feel that would get more popular in the internet market. And businessman now is well aware of the importance of making responsive web design for their business and their approach is towards the best responsive web design company who will take over their business to the great heights.
Many options are available if you think of developing and designing of the website for your business. It is stressful to code for every device which is available in the market, to better avoiding this difficulty Responsive web designing technique is used, which doesn't require so much time for learning and even implementing. Implementation of this responsive web design concept has improved entirely the users' experience. Responsive web design not only serves the best experience to the users but also minimized the workload of web Designers. You can see the increasing demand for responsive web design and acknowledge the enormous ROI after the investment in a responsive web designing. You can notice the growth of your business by just surveying the percentage of bounce rate that how much it reduced after a mobile friendly site creation.