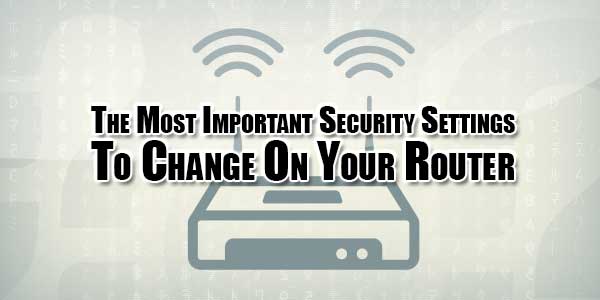 If a hacker wants to access your network the first thing he or she will go after is your router. Unfortunately, hacking the majority of routers available today is not that difficult. This is enough to make you interested in securing your router the best way possible. There are some basic tweaks you have to make into your router configuration and they shouldn't be ignored.
Let's see what they are:
If possible it is highly recommended to change the default username and password.
At the same time change the network name or the, so called, SSID. By doing this the devices you connect to your network won't try to connect to other networks with the same name. By default the router has a predefined network name. In most cases it is the router brand like Linksys, TP-Link and similar. Therefore it is normal that other routers have the same SSID.
The wireless encryption should be set to WPA2 and it is best to combine it with a strong password.
These are the basic security changes that will definitely increase your router security and we hope you have already made them. However, there are a few other things you have to take care of.
Install Open-Source Router Firmware:
If possible you should install open-source router firmware like DD-WRT and Tomato. This will add extra features to your router and this firmware is definitely more secure than the one installed in the factory. At the same time these types of firmware are uprated more frequently, have extra security features and so on.
In most cases, when the average user thinks about upgrading the router firmware it is normal to think about the official firmware. However, it is strongly advised to try these open-source alternatives. Simply check whether your router and see if it supports this type of firmware. You can try both of them and see which one suits you best.
Perform Regular Firmware Upgrades:
No matter whether you use the official or alternative router firmware it is highly recommended to upgrade it frequently. This is important because of new vulnerabilities and with the new firmware these are fixed.
The firmware upgrade process may be different between various router brands but in most cases this can be done in the router's admin page. You will have to use the default IP 192.168.1.1 or another one if you want to do this. At the same time you can even check the manufacturer's official website and check if new upgrades have been released. There are also routers which have the option to automatically upgrade their firmware, but it is always better to do this manually.
Remote Administration Should Be Switched Off:
This option is already switched off in most router models but we recommend you to check if it's turned off in your case. This option will make it possible for someone to access your router's admin page from outside the network and this is why it should be off. Simply check the advanced options in the router's admin page and look for this option.
UPnP Should Be Disabled:
UPnP(Universal Plug and Play) option is there to make the devices you use easy discoverable by your router. However, there are some security problems with this option mainly because of the lack of authentication.
If you want to turn this option off you have to login to the router's admin page and look for UPnP and disable "Allow user to configure UPnP". This only has effect on things which are not part of your network.
If you have applied all the settings modifications we have suggested it is time for you to be more peaceful because now you can be sure you have done everything you can to have a more secure wireless network. It would be wrong to ignore these tips just because you have no time to perform them. If something happens to your network you will definitely want to go through all these settings and that time you will have time. It is always better to prevent some things, especially if you really don't have to spend hours and hours tweaking your router.