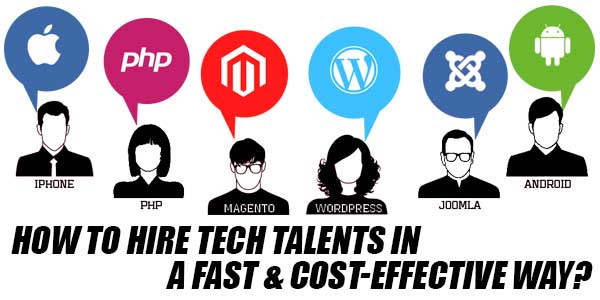 IT recruitment can be a challenging task for different-type businesses. Currently we witness the lack of tech talents in different countries, high salary rates of the US programmers and the battle for developers globally. To implement a successful IT strategy, decision makers are forced to find new & effective ways of hiring tech talents. Moreover, new technologies are emerging every day. Finding skilled candidates who have expertise in using these tools might be difficult & expensive.
Down below, are listed several effective & creative ways to hire IT professionals.
Think Remote:
Remote collaboration is getting more popular due to a couple of reasons. Much like building an in-house team, this collaboration model is secure & reliable. Unlike working with freelancers, setting up a dedicated development team guarantees you complete data privacy & dedication of tech experts. Moreover, you can monitor & control the entire working process using Jira, Scrum and other powerful management tools.
Save Budget & Time:
Another effective way of hiring programmers is by finding a partner with perfect price/quality ratio. It takes a lot of time & money to hire Ruby developers in-house. To reduce these expenses without compromising on service quality, many companies decide to contact a trusted IT agency. In fact, by offshoring software development, agencies can save up to 60% of the overall expenses. Furthermore, this allows business owners to collaborate with talented tech minds selected to their specific requirements. Delivering IT recruitment process to professionals makes it much more effective & enjoyable.
Search On Tech Networks:
Traditional job boards are not a perfect choice when searching for tech talents. Instead, try scrolling through tech forums, social networks and tech recruiting platforms. It's much likely to find highly-skilled programmers discussing tech questions there. Most likely, you already know them: Toptal, StackOverflow and Upwork help you hire JavaScript programmers, NodeJS developers and other type of specialists fast.
Clearly Set The Requirements:
Creating image of the ideal candidate before hiring programmers is essential. You need to know the requirements, skills & knowledge which are necessary for your particular project, technologies you're going to use and how much help you need. This boosts greatly the IT recruitment process, since you already know what exactly you're looking for.
Be Specific & Original:
When creating a job description, clearly indicate the type of a project, programming languages which will be used & what distinguishes your company from others. Avoid general phrases like "we highly value each team member" or "work in a dynamic environment". Explain what your company can offer when hiring IT professionals in a professional tone. Also, indicate the salary rates: ads with salary estimates get 60-75% more engagement than those without numbers.
Get Help In Interviewing IT Professionals:
Personal interviews are the longest stage in IT recruitment process due to a large number of candidates selected for real-life meetings. However, you can reduce the time spent on it by delivering specialists pre-selection & screening to a trusted software development company. In such case, making a final interview with pre-selected candidates is your only responsibility, while the agency takes care of developers screening, official employment and related issues.
During the interview you need to check soft skills of a candidate, especially when it comes to a technical position. Find out about latest JavaScript interview questions & answers to be prepared for JS developers hiring. However, you can choose a more productive & efficient way of interviewing. Experienced IT recruiters with deep industry knowledge can help you in this.
Referrals:
Any self-respecting business owner appreciates & values his employees. In fact, the team members might become more precious source of information that you can expect.
A single referral can save HR managers weeks or even months of work. This technique is so much more important in IT recruitment. You can avoid time-consuming job postings by introducing referral bonuses to your workers. Imagine that one of your employees knows a senior .Net developer willing to join you – that's a great deal of help, isn't it?
Conclusion:
Hiring developers requires a little bit more attention & effort than closing of non-technical vacancies. However, it can be a quick & cost-effective process with no doubt. Following the latest trends in software development industry becomes easier with highly-skilled professionals on board. Thinking remotely is one of possible ways to simplify the IT recruitment process greatly. Whatever IT professionals you need to hire, you can find & hire experienced tech talents delivering superior quality services. Set the requirements, search in the right places and start collaboration with professionals as soon as possible.