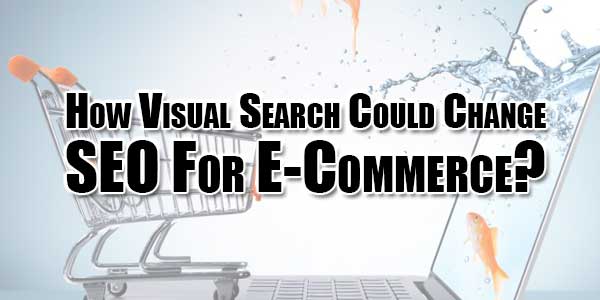 Visuals have a greater impact on the viewer's eye and mind than any text. Hence, visuals are important in SEO and e-commerce which can be proved with facts such as:
Human brain processes images 60,000 x quicker than text.
Audience still retain 65% of visual stimuli even after three days than retaining just 10% of auditory stimuli.
Customers are 80% more eager to engage with content that includes relevant images.
Content with relevant images earn 94% more views than textual content.
Images are the key deciding factor when it comes to making a purchase for 93% of consumers.
Digital marketing experts hence know that convincing images are crucial in boosting conversions.
Why So?
The online market is flooded with various ecommerce websites. Thanks to the ecommerce website development companies. These have made it easy for the consumers to buy their needs without the even stepping out of bed.
One common issue that often plagues customers and e-commerce retailers is that they find it extremely difficult to find specific products by running a textual query. Indeed, this is especially a big problem when customers lack complete information or are unable to describe a specific product.
This is why there's a need for visual search is felt these days. While ecommerce websites have really made it easy for the consumers in their daily life, visual search has some added benefits for e-commerce sites.
Here are three big advantages that visual search has over text-based search:
1.) Minimize Extra Steps:
Ecommerce website development companies put all their efforts to offer an amazing experience for the users. However, the checkout method is one of the biggest hindrances of e-commerce conversions. Checkout process that includes things like sign-in, sign-up, fill in personal information, payment information, make choices regarding coupons, gift wrap, coupons, etc, are things that annoy customers greatly.
In such a case, visual search aids in:
Eliminating the tiresome querying by redirecting users directly on the product page that match their images.
Generating more outputs and more targeted results for the users who are searching for one specific product. This greatly helps in attracting potential leads.
Translating to better usability.
Hence, removing unnecessary steps for your consumers will help your users enjoy a more positive experience on your ecommerce website.
2.) Remove Dead Ends:
When it comes to searching for products on your site, your customers might face two dead ends:
The first dead end takes place off-page when your customers haven't seen your website. For interest, your customers can see your product on websites like Pinterest without visiting your site ever.
The second dad end takes place on-page when the customers leave your website when they don't find a product they're looking for.
Here, visual search solves your problem of off-page dead end by allowing consumers to find products that fit visually and continue searching for items that match their selection.
To solve the problem of on-page dead end, visual search might offer your customers a suitable replacement for their product query. Hence, by matching their preferences like color, style, and size, you can ensure that your customers always find something they want.
3.) Improve On-Site Search:
Visual search technology allows qualified leads looking for particular products to refine their searches beyond keywords. It helps them in their search by recommending items based on visual similarity, matching styles, and other searched items by the customers. Benefits of refining your on-site search functionality include:
Offering increased customer satisfaction.
Increased customer engagement.
Simplified buying process.
Higher conversion rate and increased sales
Conclusion:
There are many digital marketing companies in USA that can guide you more on the benefits of visual search for ecommerce SEO. Find the best one and take your ecommerce business to the next level.