Now it is solved by SendLongerTweet. Twitter's strict 140 character limit exists to comply with its "micro blogging" format. However, sometimes you need just a few extra characters to put down all of your thoughts, or even embed a picture into it. Although Twitter does not allow extensions, you can use SendLongerTweet.com to create a longer Tweet with styles.
SendLongerTweet.com allows users to send messages of any length, whether it contains an embedded image or just a lot of text. SendLongerTweet.com lets you sign in via Twitter, Auth in order to post long blog-like posts on Twitter.
Please Note: THIS SERVICE SEND LONGER TWEETS BY CONVERTING TO A PICTURE.
CLICK HERE TO OPEN
How To Use This Service?
Just edit text, change font size, color, align paragraphs, add emotions, tables in the editing area. Once you click the preview button, the longer tweet full of rich color, fonts, styles you just edit will be converted into a picture. Click the "tweet" button, this picture will automatically be posted on your Twitter account after you login twitter and authorize the post. Your followers read your longer tweet by viewing this picture.
Type whatever you want in the edit area. Change font, color, size, style. Add lines, pictures, emotions, tables.You can paste what you copied from other website (Do not violate copyright), or Microsoft Word document.Click "Preview" when you are done. A picture generated in a pop-up window. Use this picture to tweet.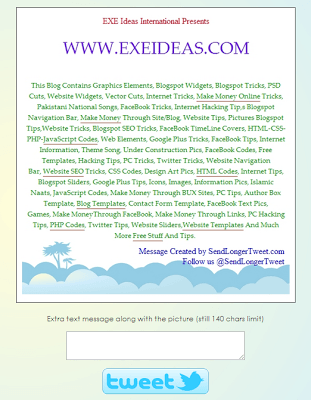 Limitation For This Service:
Please use the following browsers to get the best result of our service, thank you.
Google Chrome
Mozila Firefox
Apple Safari
Last Words:
That's all we have. If you have any problem with this then feel free to contact us with full explanation of your problem. We will reply you as time allow to us. Don't forget to share this with your friends so they can also take benefit from it and leave your precious feedback in our comment form below. Happy blogging, See you in next article…