Create a website from beginning to end, without hiring a sub-contractor with the drag-n-drop WordPress builders. It includes a call-to-action buttons, galleries, sliders, animated counters, icons, tabs, accordions and much more, thereby providing you an opportunity to implement your creative ideas. The builders are awesome for experts and newbies who want to speed up their production. It comes with predefined templates, responsive designs, woocommerce compatibility, multisite support and extendibility to facilitate your website building.
Here is the collection of the best drag and drop WordPress page builders that are available at no cost:
1.) MotoPress Content Editor:

Enhance the standard of WordPress editor with a MotoPress content editor. The plugin supports custom post types and comes with 30+ built-in content elements like CTA buttons, galleries, embed, YouTube and more. The editor allows you to drag and drop any element, and has a nice toolbar for selecting components that you would like to include in your post. You can extend its functionality with your own shortcodes and advances add-ons such as video lightbox, video slider, countdowns and image hotspot. It is compatible with all the themes, has predefined layouts and is available in 11 languages.
Download Link: https://wordpress.org/plugins/motopress-content-editor-lite/screenshots/
2.) Live Composer:

Style your page, insert modules, load and save templates with live composer. It is a beautiful and responsive drag and drop page builder that comes with a front end editor. It has over 30 content modules including sliders, accordion post box, comments and sliders. Each module provides styling options to create a unique look. The tool gives you an access to the entire library of Google fonts and 550+ font awesome icons. With live composer build your own search results page, 404 pages, and different category pages for different post types.
Download Link: https://wordpress.org/plugins/live-composer-page-builder/
3.) Page Builder by SiteOrigin:

Insert WordPress widgets into your pages with Page Builder, a fantastic solution that helps you create multi column and multi row pages on your websites. It includes six basic widgets to help you get started: video, post loop, Gallery, image, testimonial, animated image, list and price box. You can add more widgets to your disposal by downloading from WordPress.org. It allows you to comfortably roll back and forward through the changes you make, by means of a history browser. In terms of customization, spacing, borders and padding can be changed easily with simple input fields.
Download Link: https://wordpress.org/plugins/siteorigin-panels/
4.) Aqua Page Builder:

Create an unlimited number of template variations for use in your WordPress themes with the powerful Aqua page builder plugin. It offers only few modules out of which, the widgets module and the visual editor module transforms Aqua Page Builder into a versatile page building solution. Aqua is equipped with dozens of actions and filters and unlimited number of reusable templates. It is compatible with export and import option and allows you to transfer and share your layouts.
Download Link: https://wordpress.org/plugins/aqua-page-builder/
5.) Page Builder Sandwich: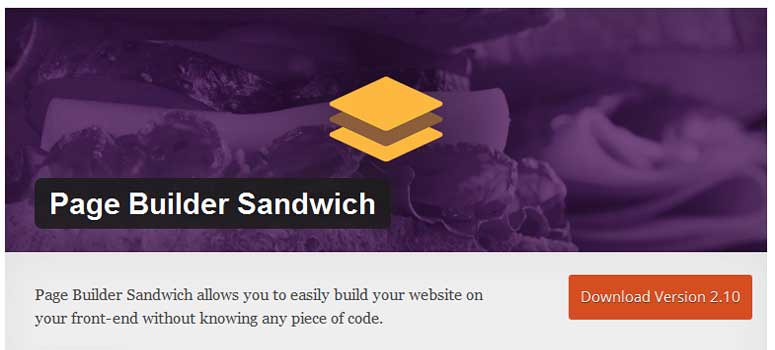 Page builder sandwich features a clutter-free interface. It allows you to change colors, italicize text, embed videos, add entire predefined templates, and adjust columns and spacing. There is an undo shortcut that helps you to cope up with typos. It comes with precisely crafted interface and tools to create designs and layouts without knowing a piece of code. It provides fluid and stress free experience by removing all hindrances and distractions from the flow of editing.
Download Link: https://wordpress.org/plugins/page-builder-sandwich/
6.) MiniMax – Page Layout Builder:

Create full-featured sales pages and squeeze pages with MiniMax plugin. Supporting over 3000+ widgets and has custom modules for notification boxes, timelines, message, warning, progress bars, dropdown menu, sub-pages, rich text and more. Minimax- Layout Builder is compatible with any theme. Just in a  few clicks, you can  export your page layout and import it to another site. It gives you the power to do anything within a page layout without editing code.
Download Link: https://wordpress.org/plugins/page-layout-builder/
7.) Page Builder by WooRockets:

WR Page Builder  gives a new experience for  creating an entire online shop by visual drag-and-drop functionality. It can be used to build both pages and posts and has built-in shortcodes. It includes full page elements, widget support and more options that provide numerous number of style variations, so there is no need to touch any code. WR Page Builder prominent features are powerful layout, convenient elements, fully responsive and spotlight filter.
Download Link: https://wordpress.org/plugins/wr-pagebuilder/
Conclusion:
Not everyone have much time and resources to learn the skills required in building a professional website for their company, brand or organization. WordPress comes with the drag and drop builders to cater all your needs of developing a unique website. Now,  create a professional site without a professional developer by considering one of the WordPress builders.