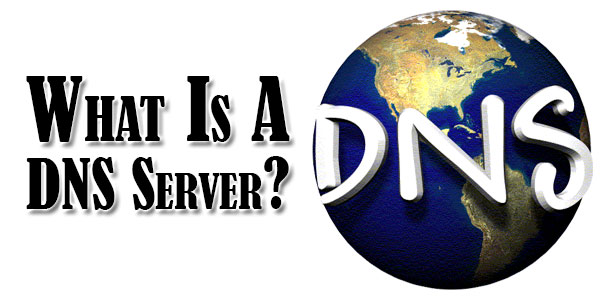 DNS is called as Domain Name System. The Domain Name System is a standard technology for managing names of sites and other Internet domains. DNS technology permits you to type names into your web browser like computer working and your computer to automatically find that address on the Internet. An important element of the Domain Name Server is a worldwide collection of DNS.
What Is A DNS Server?
A DNS server is any computer registered to connect the Domain Name System. DNS server's runs special purpose networking software, features a public IP address, and enclose a database of network names and addresses for other Internet servers.
DNS is like a phone book for the server. If you know a person's name but don't know telephone number, you can simply search it in a phone book. Domain Name Server provides this same service to the Internet. When it comes to talking on the Internet, computers don't recognize each other by name. They prefer numbers, usually.
It happens on a name server that holds a directory to transfer the name to number. The name server for this purpose is part of the Domain Name System, a distributed system that exists across the planet. It is one of the most important elements of the Internet as we know it now. Without DNS, we would certainly have to know all those numbers; it will be like trying to remember thousands of phone numbers just to search the web and emails.
When you send out an appeal on the Internet to access a site, the appeal goes out over your network, and moves from router to the Internet. But it has to initial check in at a resolving Domain Name Server to see what the actual address is. The resolver could be at your Internet Service Provider, which makes it quick. But if it doesn't know, the resolver will send the appeal to a root server that is part of the DNS.
If the root server doesn't know, it will tell the resolver to go talk to a zone server the Domain Name Server that knows all the top level domains. This could go on for a while, but ultimately a DNS name server should have the information you want.
All that talk between resolver and name servers, plus the traffic to the Web server you wanted information from in the first place, happens in milliseconds. Just as quick, the final answer to your request like loading a web page is sent back to your home connection, to the router, to the home network, and ultimately back to your computer or phone. But in your web browser, all you ever saw was the name of the site.
What's really amazing is how the Domain Name Server is distributed across millions of servers on the Internet, yet to your PC, it all looks like one big database.
How To Fix DNS Server Not Responding?
Are you experiencing DNS errors when you try to load a website to your network? The Domain Name Server is a server that transfers website's addresses so that your browser can connect to the web sites. Rarely, you can lose connection to the server, throughout either corrupt settings or problems on the server's end. If you are experiencing difficulties connecting, follow the below Steps to learn how to resolve your problems.
Step 1.) Verifying Your Connection:
Connect another device to your network.
Before you begin trying to resolve the problem, it will assist to know where the problem is happening. You can narrow down the problem by performing a few fast tests. Connect another device to your router or you can use another computer, or a smart phone. Anything that accesses the internet will help to test the connection.
Try to access a webpage from the test device.
If you are still having DNS problems, then the problem lies in your router or with your Internet Service Provider. If you can connect to the internet, then the problem is in your first computer.
Restart your modem and router.
Unplug your router's power cable as well as your router's power cable. Allow them to sit off for 30 seconds so that any residual charge is released and the memory is cleared. Reconnect your modem, and wait for it to connect fully. After it has powered on completely, reconnect the power cable to your router and let it to boot up. This could take a minute time. Once you have restarted both devices, try connecting to the internet again. If the problem still exists, move on to the next step.
If you are using a mobile you can just reset your mobile phone settings.
Step 2.) Troubleshooting The Computer:
Just try a different browser.
This is one of the fastest ways to test your DNS connections. Use a free browser such as Firefox or Chrome to connect to the internet. If the problem exists, then the issue is likely not with the browser, but with some other setting on your computer.
If the problems are resolved, then you can try to troubleshoot your old browser. Oftentimes the problem stems from the proxy settings. Follow this guide to admission the proxy settings for the browser you use, and set them back to Automatic.
Put off all extra connections.
Rarely, Windows will install extra connections that you won't normally use. For better connectivity, you should only have the connections that you use daily enabled. To open your internet connections window, click the Start menu and search for "ncpa.cpl".
Search for extra connections.
You can see a list of your connections. The most common cause for Domain Name Server problems is the existence of "Microsoft Virtual Wi-Fi Miniport Adapter". IF you see this, right click it and select Disable.
Sometimes your DNS cache gets expired and need to be manually flushed. This can be getting from the Command Prompt. Open the Command Prompt by press Win+R and type cmd. Type ipconfig / flushdns. Wait for the command to process and then restart your system. Test the internet connection again. If the issue still exits, move on to the next step.
Try connecting in Safe Mode.
Rebooting your system into Safe Mode will only load the important files for Windows, which will help you to determine if another service such as your antivirus is causing the connection issues and then you should uninstall your antivirus and install a new one. Reboot your system and hold the F8 key while it is booting up. Select Safe Mode with networking from the list of options.
If you are able to connect to the internet successfully, then the issue lies with a program running on computer. Troubleshoot the startup files and stop programs until you find the problem.
Step 3.) Troubleshooting The Router:
Plug your computer directly into your modem.
If you are using a router to have a home network, disconnect your system from it and put it an Ethernet cable directly into your modem's Ethernet port. Try to load a website. If you are still receiving DNS problems, then the problem lies with the Internet Service Provider. Contact them and enquire about the problem with connecting to the DNS servers.
If you can connect to a web page, then the problem lies with your router. Reconnect your router to your modem and connect your system back to the internet to carry troubleshooting.
Enter in alternate Domain Name Servers.
You can change your router's settings so that it connects to manually connect to alternate Domain Name Servers. This will let you if your ISP's DNS server may be faulty.
Occasionally the settings on your router might get interrupts, and the way to solve them is to just reset your router to default settings. This will reset your wifi network settings and any port forwarding information.