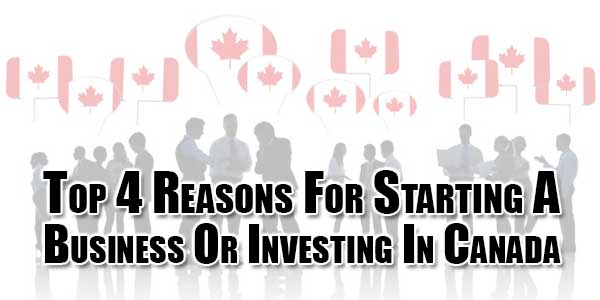 The number of businesspeople and investors immigrating into Canada continues to increase with each passing year. If you're a businessperson or investor looking for a country to immigrate to and start a new, better life in general and a business/investment in particular, you should consider Canada. Here's why.
1.) The Canadian Economy Is Thriving:
Canada continues to be perform well in the global economy and among developed nations and is expected to continue along the path of prosperity into the foreseeable future. Coupled with an increasing global demand for Canadian commodities in recent years, the country's strong economy has translated to opportunities for those seeking employment or business opportunities. It has also ensured that the inflation rate stays low.
2.) The Country Has Been Named Among The Best Places To Live Worldwide:
Canada continues to be ranked as one of the best places to live, do business, invest, study, and work compared to other popular countries, such as the United States, the United Kingdom and Australia among others. Some of the factors taken into consideration in this comparison include general peace/security, ease of doing business, and rich/diverse culture.
In addition to that, the Canadian immigration system makes it easier to immigrate into the country compared to the systems of peer countries, such as the United States. There are many methods and application categories you can use to apply for immigration. Using a competent and experienced immigration attorney increases your chances of success.
It is therefore advisable to research widely on immigration attorneys to ensure that the one you finally work with chooses the best application strategy for time in immigration to Canada.
3.) Canada Has Strong Links With The Global Market In Various Industries And Sectors:
Attracted by Canada's robust infrastructure, investors from around the globe inject foreign investment into various sectors and industries. Running your business from Canada as a non-Canadian is much easier than it is in the United States. What's more, you can still reach the whole North American market because of the North American Free Trade Agreement.
In addition to that, Canada and the United Kingdom have for many years shared common values and strong historical ties. The links between the two nations are further strengthened by economic and trade ties. The UK is, in fact, the fourth largest trade partner of Canada.
4.) Canada Has A Vast Pool Of Skilled Workers:
Canada has a top-tier education system as well as many highly reputable institutions of higher learning that teach world-class courses in engineering, business, etc. As a result, the country enjoys a large number of people with the right skills and qualifications.
Its prioritization of human rights in general and employee rights in particular is among the reasons why employee turnover in Canada is 50 percent that of the United States. A large part of the population in Canada is computer-literate, meaning businesses have a vast pool of technology-adept workers to select from.