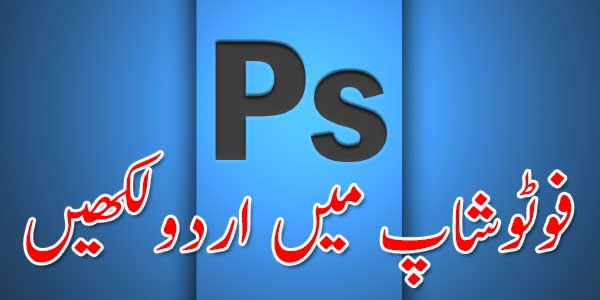 Hi everyone and specially to Pakistani. Today i am going to share a hot and simple trick about "How To Add Urdu Fonts In Adobe Photoshop Or How To Write Urdu Text In Adobe Photoshop All Version And Can Do Any Customization On It With Some Easy Steps And A Clear Tutorial About This Question?". I am here to teach you a very important article about Adobe Photoshop as it's wanted by every body in this country. Adobe Photoshop is a program that is used to compose English Text and images and also know as the best editor in the world because it has hundreds of most wanted and extra features to style up an image or text in computer for print online or offline.
It is a very comprehensive program for Pakistanis and also all over the world. People use this program for compose awesome images with all English fonts and facilities. But the problem is that Adobe Photoshop only provide composing for English or other languages except Urdu. We can't style our Urdu composing and can't make shadows or different effects. We also can't insert HD pictures in it. The need of hour is that how to fix it. People who love to write urdu in Adobe Photoshop are also like to give different effects and styles in Urdu. We can't do anything using Simple Adobe Photoshop. But here we have a best solution for this problem. I will tell you that how to write Urduin Adobe Photoshop and create different styles and shadows in it. Below is a full tutorial for doing such a thing.
The complete tutorial is actually based upon three question that is below and also they all are answered after below. 😀
How To Install Urdu Keyboard In Your PC?
How To Add Urdu Fonts In Adobe Photoshop?
How To Write Urdu In Adobe Photoshop?
So now we start the tutorial by answering step by step below…
Before moving forward, you must have some files in your PC that are sized in KB and also fully checked by all antivirus that contain three things in a ZIP pack, First is a Urdu Keyboard Installer, Second is a best and most used Urdu font "Alvi Nastaleeq (UrduFont)" and the third one is a Adobe Photoshop .PSD file. Just download this package and move forward to the next part of our article in which you will learn about "How To Use It?".
Step 1:) How To Install Urdu Keyboard In Your PC?
First of all, after downloading the package, open it and run "Pak-Urdu-Installer.exe" that will install Urdu keyboard on your PC with some fonts too. After doing this, move on to the next step.
Step 2:) How To Add Urdu Fonts In Adobe Photoshop?
After the above step, open "Alvi Nastaleeq (UrduFont).ttf" and Install it and its done.
Step 3:)How To Write Urdu In Adobe Photoshop?
After the above two steps, open "Urdu Template By EXEIdeas.psd" in photoshop and see that you will be able to edit Urdu fonts easily and also can make your own PSD or even can edit others too.
Last Words:
After reading and using our tutorial, you just know that how easy it is but one fact is common that at the time of need, people forget the easiest thing but still remember the hard one. Anyway thanks for reading our tutorial, Just leave your impression in our comment box and also ask your quires freely…