If you're like any personal computer user, then you've got plenty of folders where you keep Word documents, spreadsheets, photos, music and an endless report on other things. Sometimes the folders are countless that they may well literally cripple your productivity and you might be in a devil of the time searching for the folder while using document you need currently.
Plus, with so quite a few similar-looking yellow folders it is easy to make a oversight and carelessly delete an important folder. The chaos a great number of folders can create could be staggering!
Today we have something great for you that can make your desktop look good and attractive. In this article we are going to share "How To Create Folders Of Different Colors In Windows". With this awesome trick you can easily create folders of different colors in Windows PC. You can watch live demo in the pic below.
How To Create Folders Of Different Colors In Windows?
1.) To create such colorful folders , first of all you need to download a software named "Folder Colorizer". You can download  it by clicking FolderColorizerSetup.exe.
2.) After downloading it , run the setup file and install it on your PC.
3.) Then run folder colorizer and activate it by providing it your email address and ticking newsletter option. This is free of cost and it wont cost you anything.
4.) After this your software will be activated and you dont need to do anything now like going to mail to check any kind of serial key etc.
5.) Now create a new folder or choose existing folder and right click over it. You will see a colorize option there.
6.) Now you can select any of these colors by just clicking over it.
7.) However , if you dont like these colors you may even edit them by clicking "Colors" option at the last as shown in above picture.
8.) Pick any color you like and click Add color button.
9.) This will be saved as your preset color and you can then select it in future from the menu itself.
10.) If you want to restore the default folder color , click "Restore original color".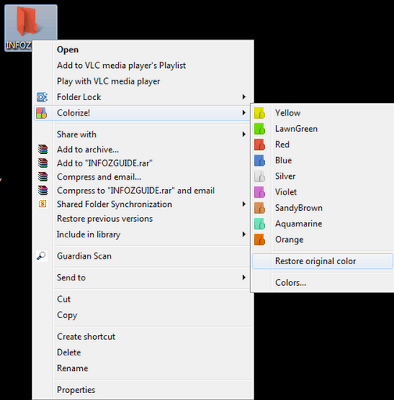 Last Words:
After reading and using our tutorial, you just know that how easy it is but one fact is common that at the time of need, people forget the easiest thing but still remember the hard one. Anyway thanks for reading our tutorial, Just leave your impression in our comment box and also ask your quires freely. So in this way you can completely customize the looks of your folders using "Colorizer" and make your desktop attractive and unique.