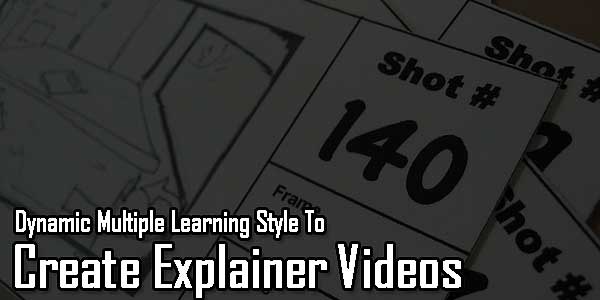 The reason why the world is driving towards corporate videos or explainer videos, no matter what you call them is because they explain products and services in a quick and easy manner. But once you've decided to make one for your business, the next step is the selection of the style to make it. There are numerous styles and each one has its own language that appeals to different types of audience.
What is the best style of animation for your explainer videos for startups and corporates? We have compiled a list of the most popular ones for you!
Screencast Video:
This type of video is basically for showing how to use a program, website or software through simple screen captures. A low-budget, but equally useful style used for branding and education. They are longer in duration and apt for how a product works to the prospects.
Character Animated Video:
Character animated or cartoon style videos one of the most popular styles of creating explainer videos. There's a story led by the character, which is shown stuck with a problem which he or she can't solve. That's where the product or service comes in as a savior!
The character is like a representative of the target audience. Its custom designed with elements of emotions and personality to make a connect with the audience. These videos are real "attention grabbers", which viewers find it great to watch!
White-board Animation:
This cool technique came into existence by an illustrator who simply drew on a whiteboard while being filmed in a camera. Later it evolved and now is created digitally. A highly innovative technique, that's super engaging with an educational approach. Videos made using whiteboard are really fun to watch as the content is created right in front of you!
Motion Graphics:
With the use of colors and shapes, graphic elements are brought to movement, to explain complex messages which otherwise maybe an impossible task. This video style suits businesses with serious profiles who seek to explain abstract concepts and ideas. They are best for B2B communication.
Motion Graphics With Elements Of 3D:
If you want your explainer video to have an elegant and sophisticated look this style is for you. Integration of 3D elements with Motion Graphics animation is an ideal way for making a business stand above the competition.
For companies and products with new technologies, digital services, softwares or applications, this video style can be a perfect choice.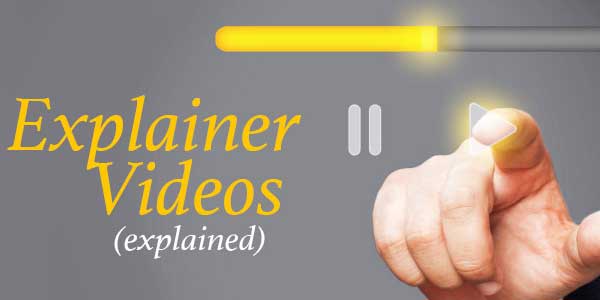 Cartoon Style fused With Motion Graphics:
One of the most popular type of animated video, a cartoon character comes alive in motion graphics, it's a mix of two different techniques. How does it work? A complex business idea is explained with motion graphics while the cartoon character leads the story in the video.
It's like getting the best of both worlds, the character keeps the mood and tone of the video fun and engaging and motion graphics does its job of explaining the complex idea. Great for B2C communication as well as for startups.
Claymation Or Stop-Motion Animated Videos:
One of the most oldest techniques of animation with zero dependence on high-end digital technology! Completely hand-crafted videos created frame by frame. The video is created by recording each frame, which are then played back-to-back in rapid succession. A time-consuming and an expensive process but the final product can be quite amazing.
If you want to give a homely and old-school feel to your explainer video then we recommend this style for you.
3D Animated Videos:
Last but definitely not the least, the sky is the limit in this animation style. An amazing style, with endless possibilities, 3D animation is great for corporate giants with big ideas and concepts. The cost of creating these videos is quite high making them out of reach for business startups.
Do your homework well and look out for experienced studios if you're opting for 3D and if your budget allows it. As a low-budget 3D animated video can generate negative results for your products.
With so many options at your disposal, by now you surely have an idea which animation style best suits your purpose. Go market your products and services in style with explainer videos and you're sure to grab attention and customers for your business.