To analyze complex data and benefit from the intelligence derived, it is essential to store it with high levels of security so that their sharing and management occurs without any breach. Cloud technology comes with immense opportunities and conveniences; however, security remains a major challenge. The processes through which the data is put and can be accessed cannot be entirely trustworthy as it passes through many hands.
Securing And Security:
Cloud computing is fraught with security issues as it includes networks, databases, transactions, operating systems, concurrency control and memory management. The virtualization paradigm itself creates several security concerns. Cloud computing security challenges can be broken down into –
Network level issues – distributed nodes, internode communication etc.
User authentication issues – encryption/decryption,administrative rights of noted, applications' authentication
Data management and control – data integrity, data protection, data distribution
Generic issues- security tools, use of different allied technologies
Measures For Security:
The most basic measure would be to not create an easy-to-remember password. As simple as the mantra is, 90% of the people do not follow it. Using the same password for all your email and social network accounts and the cloud storage account is another bad idea.
Read the user agreement, even though it sounds tedious, especially the minute font, it is essential to understand how the system works to know how reliable it is.
Zip the file and encrypt it with a password to make it as inaccessible as possible. When you are sharing the file, share the password with that person alone.
Opt for encrypted cloud services, this means you won't have to encrypt and decrypt each file, the cloud service provider will do it for you.
Map reduce jobs must be tested thoroughly in a distributed environment to plug security gaps
Format the nodes that run the software regularly to check for viruses and update the system regularly for maintaining security
Mandatory access control and differential privacy in a distributed environment coupled with complete control of security policy with data provider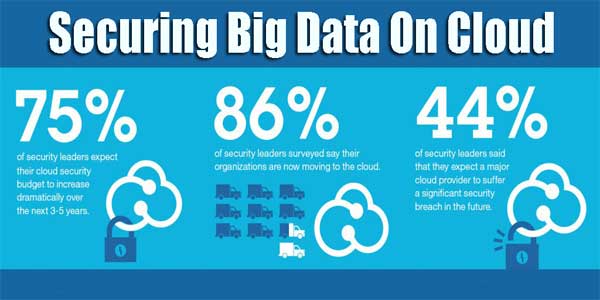 Security As A Service – Service Providers For Big Data Protection:
As the system advances, hackers go two steps further and find a way to circumvent the system. There are products that will protect you from malware without being installed as firewalls on your system. Some of the systems we'll list below will provide basic security for common cloud platforms such as Saleforce and Google Docs. Some well-known products are-
White Hat Security
Proof Point
DocTrackr
Cipher Cloud
Vaultive
SilverSky
Variously, these systems will provide –
Security for devices and apps
Fixing malware problem
Threats outside the network
Identity management to give information on forward facing and back-end users accessing the information
Security layer for file sharing
Protection for sign-ins on premise and outside
Email monitoring and protection
Data can be classified as confidential, public and sensitive to ascertain the level of security that has to be assigned to it. Through this measure, the level of security to be placed for any data can be measured as per the importance and the grades of access can be varied.