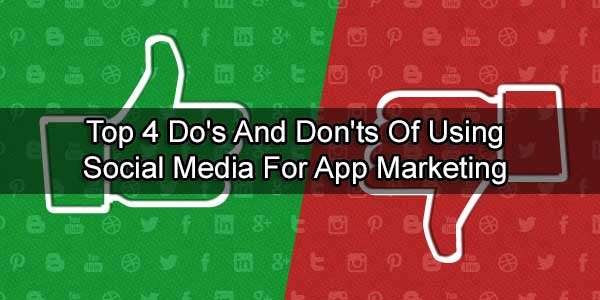 Social Media has undoubtedly emerged as one of the best mediums for promoting a brand. Whether you've developed a mobile app for business or a brand new corporate website, social media can come as a handy tool for promoting it in the finest manner. Specially talking about app marketing, there's nothing better than social media that can offer you the expected results. In this blog, I'll be covering 4 Dos and Donts that you need to follow while using social media for app marketing purpose. .

4 Do's:
1.) Offer Tempting Incentives:
Incentives work wonders for promoting your application. Whether the incentive is big or small, you can always make people spread the news of your app via word of mouth. However, the most important thing that needs to be considered here is the quality of rewards. Make sure the rewards meet the basic quality standards.
2.) Post Regular Tweets Regarding Your Application:
Twitter is an effective social media marketing tool that lets you promote your app on an instant basis. Moreover, you can also use Twitter as a feedback platform wherein app users can provide their feedback and contact you in case they have any queries regarding the correct usage of the app.
3.) Add Videos To Your Application:
Videos work best for gathering the attention of customers. People prefer watching videos instead of reading long pieces of text regarding the features and advantages of the application. So, include eye-catchy videos in your app for gathering maximum customer attention.
4.) Use Facebook For Interacting With Your Potential Customers:
As a popular social networking website, Facebook allows you to interact with a variety of users from all the world. You can become available to your audience and keep in touch with them regarding your app.
4 Dont's:
1. Don't Delete Negative Comments:
You might receive a negative feedback for your application. Make sure not to delete the same, instead try to address them in the best possible manner.
2.) Don't Brag About Yourself And Your Achievements:
People are more interested in learning about your app rather than your personal achievements etc. Hence, ensure to offer accurate and elaborate details about your application instead of bragging about your own achievements.
3.) Don't Portray Yourself As A Marketer:
Since social media comes with a casual environment, it is important to create a healthy communication with users, instead of simply pushing your products on them.
4.) Don't Make False Claims:
Let the consumers know exactly what they can expect from your app. Never try to create a hype for your app by advertising something that isn't true.
Wrapping Up:
So these were the 4 Dos and Don'ts that must be taken into account while using social media for promoting your app. Hope you'd have found them easy to follow.
If you know of a Do or Don't that needs to be followed during app marketing via social media, please consider sharing it with our readers. You can use the comments box to provide your views/opinions on the above post.
About the Author:
Victoria Brinsley is a tech savvy technical writer associated with a leading
Android Application Development Company
. She will give the best advices to those who are looking forward in order to opt Android App Developer for Hire.