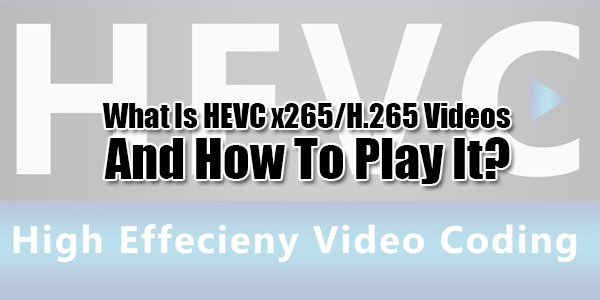 This Video is Encoded using next-generation video format/codec x265. it's one of the best and more advanced codecs than the current popular format x264. It's named HEVC which stands for High-Efficient Video Codec and offers much better compression when comparing with x264 (Lower file size Far better quality). Development on x265 began in March 2013. MulticoreWare made the source code for x265 publicly available On July 23, 2013. The latest stable version(1.7) was released on May 18, 2015.
Know More About x265 At Wikipedia…
You can play this smoothly, you need to a little heavy device/PC. You should use the latest version of your media players or use this codecs. Many updated players have native support for the codec. If your Device doesn't support x265 you can try updating your firmware or you can hook your Laptop or x265 compatible device to the TV with HDMI or Wireless connection and stream the video.
Features:
1.) Compressed Videos
2.) Many Platform Supported
3.) 32-Bit/64-Bit Windows Compatible
4.) High Quality Image/Video Resolution
5.) More Features…
Save your videos with much higher quality at any chosen bit rate. To demonstrate the difference, we encoded Tears of Steel (a popular movie from the Blender Foundation) with the leading H.264 encoder (x264), and with x265 at the same bit rate. A representative screen capture (scaled down to 50%) is shown below. Click the image to see a full resolution version of this comparison.
Play HEVC x265/H.265 Videos On PC:
KMPlayer – http://www.kmplayer.com/
Pot Player – http://potplayer.daum.net/
Media Player Classic – http://mpc-hc.org/
VLC Media Player – http://www.videolan.org/vlc/index.html
Window Media Player – https://x265.com/how-to-play-hevc-on-your-pc/
Play HEVC x265/H.265 Videos On Android:
MX Player – https://play.google.com/store/apps/details?id=com.mxtech.videoplayer.ad&hl=en
Play HEVC x265/H.265 Videos On iPhone:
MX Player – https://itunes.apple.com/us/app/mx-video-player-play-hd-videos/id730291646?mt=8
Last Words:
After reading and using our tutorial, you just know that how easy it is but one fact is common that at the time of need, people forget the easiest thing but still remember the hard one. Anyway thanks for reading our tutorial, Just leave your impression in our comment box and also ask your quires freely…