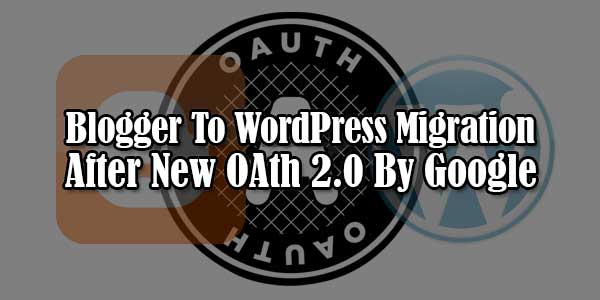 There is a famous Plugin for Blogger Blog To WordPress Migration but OAuth1 for Google accounts is going away on April 20, 2015 but yes, the plugin is still using the very old Blogger 1.0 API. Google Blogger are up to 3.0 now and use JSON to send data around and even have a PHP client library to talk to their API so since the new update of Google OAuth 2.0, this plugin is not working anymore but it doesn't mean that you can't migrate your Blogger Blog to WordPress now.
So here we are with a new plugin named as Blogger Importer Extended that is compitable with new Google OAuth 2.0 and Blogger API 3.0 so it will work fine and will do the same as previous one is doing. You have to follow all the steps as for the previous plugins.
Plugin Features:
Blogger Importer Extended can do the followings:
Import posts
Import pages
Import tags
Import comments
Import images
Import links
Convert formatting
Preserve slugs
You just have to install Blogger Importer Extended and active it. Now after installing this, just move Go to Tools > Import > Blogger Importer Extended.
Plugin Limitations:
1.) Due to Google APIs daily quota limitations the importer can be unavailable, try later.
2.) Due to Google policies, Blogger API v3 are only accessible through manually approved web services, so, any imported content (posts, pages, comments, etc…) go through our web service, only public contents are processed, no private data, no anything else.
Last Words:
This is what we have and shared in easy steps for newbies so that they can easily know how it works. Stay with us because we are going to share a whole guide step by step about WordPress and make it easy for you. If you liked it then share it and be with us to get next tutorial. If you have any problem then feel free to ask us. We will help you with what we can or have.