The title of this article itself may seem like contradicting to any reader.  Since when did Black Hat SEO become ethical? When did it become right and legal, anyway?
To be clear, this article does not support any cheating acts just to inflate web site rankings.  Moreover, this article also does not represent any company or SEO service agency that employs black hat services.  What's wrong is wrong, what's unacceptable is unacceptable.
Conversely, this article will only introduce the positive way of doing some black hat SEO techniques.  Each of the technique that will be mentioned in this article may be familiar to you.  In their original context, they are nothing but cheating acts to win the website ranking race in the World Wide Web. Here, their positive side will be tapped.
Quick Review:
First let us do a quick review about Black Hat SEO.  No, we will not elaborate the ins and outs of this set of techniques. But we will explain them, though, in layman's terms.
Definition: Use of unethical and unacceptable SEO techniques thereby exploiting many search engines.
Process: Trick search engines using any of the following – keyword stuffing, creating doorway or gateway or portal pages, cloaking, using hidden or small text and links, page jacking, spamming, and click fraud
Purpose/Aim: To improve a page's search engine result position
Simply put, Black Hat SEO is search engine spamming.  To be safe, many web site, organization, and companies avoid Black Hat SEO.  But these techniques still exist even if they are illegal because, unfortunately, they work not until search engines detect them.
Admittedly, web sites that employ Black Hat SEO are aware of the repercussions of this practice.  When caught,
If you are a web site who paid for people to do SEO for you, your web site will be blacklisted or removed from search engines. In fact, even if you employ white or gray hat SEO and would accidentally cross the line of black hat SEO, you will still get penalized.
If you are an agency associated with the blacklisted web site, getting caught is the worst thing that can happen to your agency or company. For honest mistakes, it will take time before you can get back on track. Getting blacklisted can mean the end of your agency's online existence.
Resolving The Dilemma:
Many SEO experts and experienced marketers highly recommend the use of White Hat SEO techniques.  But as the Internet becomes populated with sites and businesses that offer similar products or services, the competition gets stiffer and stiffer. This, however, does not stop many companies from playing around with the fiery and inviting success and boost in rankings as well as monetary gain that Black Hat SEO has to offer.
In the more idealistic side, business ethics and introduction to ethical procedures are made known to their employees first.  Organizations that apply this believe that adherence to what is ethical and acceptable is the first step in maintaining a company's or individual's dedication to what is right in terms of search engine regulations. It's like search engine spamming is a big NO NO in an organizational environment that opts for honest strategies in winning the race.  So whoever does this the other way around is more likely moulded in an environment or workplace that teaches them the acceptability of cheating and spamming.
Looking after the activities of a competitor has been an acceptable act.  Monitoring and tracking a competitor's ranking is like a motivational practice for many web sites.  And if black hat strategies are detected some would report to search engines to get their competitor's sites removed and out of their way.  There are those, however, who would no longer waste time on reporting; rather, they would trust people's common sense.  Thinking that when someone visits a page in their competitor's site and finds out that such page is irrelevant, that visitor will immediately leave, which makes sense right?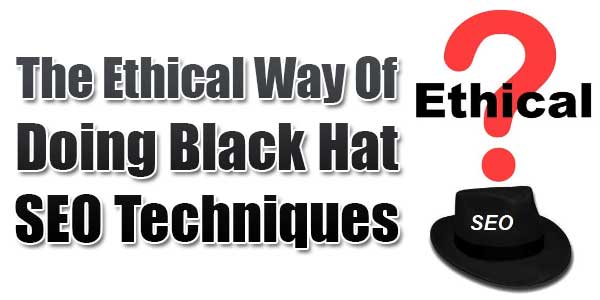 The Brighter Side:
Now let us examine some SEO techniques that are under the category of Black Hat SEO strategies and find out how to do them in an ethical way.  Remember the procedure or methods that we mentioned earlier and let us go over each of them here:
1.) Keyword Stuffing:
Keyword stuffing artificially inflates certain phrases thereby playing around with search engines into ranking the page higher than it rightly deserves.
Employ folksonomy, also known as collaborative tagging, social classification, social indexing, and social tagging to make this legit.  In return, this creates a web of more metadata which are more readable and acceptable to search engines.  As a result, this will improve the precision and relevance of content within pages.
2.) Creating Doorway Or Gateway Or Portal Pages:
Doorway pages are created and optimized for specific keywords.  So a search engine may be tricked thereby boosting the ranking of the web site in the search engine for the particular keywords alone.
To avoid crimes against search engines convert doorway pages into landing pages.  Convert users right on your landing pages.  Just like doorway pages, your landing pages would do well in terms of organic search traffic.
3.) Cloaking:
Cloaking involves delivering one page to a search engine for indexing while serving an entirely different page to regular visitors. Significant traffic is the main benefit of this strategy unless until search engines become aware of the issue.
Ethically this can be done by employing text-centered pages in your web site.  Avoid the use of flash and animations.  Accessibility and searchability will be increased in return.
4.) Using Hidden Or Small Text And Links:
The hidden motive of this technique is purely common sense.  Since a web page ranks well for a certain keyword, what you can do is to make that keyword appear at a high-frequency.  In order for it to become unnoticed, many black hat SEO individuals try to colour such text the same as the web page background or make the text so small that it is not noticed (Blankson, 2008).
Try creating modern CSS-based websites with JQuery effects.  CSS pagination is very helpful in this matter.  What these tools usually do is that they often hide large portions of text in layers to display them on click or mouse over for usability, accessibility, and searchability reasons.
For hidden and invisible links, strip the "ref" IDs which are present almost always in affiliate links by using ad on other sites.  Twitter is the perfect place for this.  Invisible links, on the other hand, are embedded tools in many web sites.  Nowadays, they come in stat counters form or any other statistical tools.  You might want to use any of these to avoid the negative effects of invisible links.
5.) Page Jacking:
Page jacking is more commonly known as content theft.  Here, the content from the legit site is copied into the illegitimate web site to trick visitors into thinking that the illegitimate site is what they are looking for.  As a result, traffic is stolen from the legit site.
It is highly recommended that you create your own content and branding.  If you have created your own content, offer your content under a creative Commons License with attribution and couple that with Google Authorship.  If you are really after your competitor and it seems like your brand is always second best to theirs, write them a negative review where you allow consumers to voice out their agreement or disagreement to your issues.
6.) Spamming:
Spamming is a very popular black hat strategy. This is like posting in more than 20 blogs, forums, or social media sites with your linked-content or signature included in all these posts.  At first, this looks legit.  But looking at the quantity, this is nothing but spamming.
Here are some suggestions to make this work positively:
Always be ready with original content per submission site.  Spinning may be acceptable but only for sites that allow this.
Create an affiliate network of real life small business owners instead of map spamming.
For link farms, create a legit network of blogs carrying your flagship content and hire a full time pro blogger to manage it.
For blog spam, remove Akismet spam if you run a WordPress blog.  Get the most profitable keyword, create posts about it, and just allow visitors to comment spam on your posts.  For comments without the keyword parse them.  For comments with the keyword, publish them and remove the outgoing links.
7.) Click Fraud:
Click fraud is actually more popular and luxurious than spamming.  It is considered to be a million dollar problem because its main purpose is to drain a competitor's marketing budget.  So far, no SEO expert has developed a way to at least minimize this issue.  To make matters worse, this has become more complicated as it finds its way to search engines themselves in the form of sponsored listings or ads or even with the advent of PPC and the use of adwords.
Remember: Justify the means with your end.  For paid links, donate or request for donation to charity.  Publish the links of those who donated.  For ad only pages, show them as a popup with the option to be closed or ignored by the visitor before they can view your content.  Avoid deceptive news and headlines; instead, make real ones.
These are what we have to offer so far.  Feel free to comment or send us more of your insights in line with the topic.  Hand in hand, we can shed light to unacceptable SEO practices.  Who knows, we might be the trendsetters for exposing the positive side of Black Hat SEO?