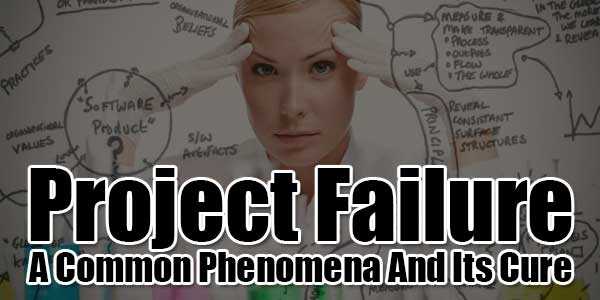 In spite of businesses making best of efforts in managing their projects, the number of projects failing remains fairly high. Their failure can be attributed to these two main reasons:
1.) Lack Of Involvement From Senior Management:
If senior management people remain uninvolved in a project, it is headed for a failure. They need to intervene when team members disagree on matters to chart out a single course of action. Senior management has to ensure that requirements have been accorded right priorities. It needs to take hard decisions to stop things going out of control.
2.) Changed Requirements In Projects:
Project requirements may undergo a change. This calls for altering project plan, adding more tasks, hiring more personnel, increased costs and others. Inability to absorb changes in a project can cause its failure.
Projects Are Prone To Failure in Several Different Ways:
Majority of the projects fail to deliver the benefits set out in their business case. For example, a software project has to deliver an anti-hacking software as a benefit. It does deliver an anti-hacking software but it is too complex to be used easily. So customers would not be buying it. Unable to provide the intended benefit, it fails.
Many projects fail to get managed within budget. This can be due to high operational costs, costly materials, spending money on training personnel besides other factors.
There are projects that fail to get delivered on time. Inefficient workflow, lack of time tracking, etc. can delay them causing their failure.
Many Requirements Never Make It:
Projects are also undertaken for introducing new features and functions into products. But after culmination of some of these projects, such features could not be developed at all or their development gets delayed. Failure to present new features and functions at their scheduled release affects marketing plans and sales campaigns of businesses.

What Is The Cure?
How to minimize project failure?
A business needs to focus better on its project management strategies for attaining success in its projects.
But How That Can Be Achieved?
Create a comfortable environment for working. So team members can carry on with their tasks in a distraction free work setting. They would be able to concentrate better and make best efforts. Their productivity gets boosted as a result.
Focus Mind At Work: Stop procrastinating and get rid of unnecessary computer and internet programs. Clear desk of unneeded file and papers, avoid unwanted conversations, etc.
Prioritize Tasks: This will improve tasks' organization and these can be systematically implemented. Make to-do lists of the tasks to be performed at a given time and check them off at their completion. This imparts clarity on tasks and they do not get missed.
Divide Work: Tasks have to be appropriately divided among team members, so they do not get overburdened with work. Their individual skills and capabilities need to be considered when assigning them tasks. Proper task assignment and delegation leads to quality results.
Use Chat Instead Of Email: Chat enables fast, informal and convenient communication among team members in real time. Any issues can be quickly raised and promptly resolved. They are able to work uninterruptedly while communicating.
Leave Pen And Paper: Team members cannot keep pen and paper with them all the time for writing and organizing tasks, processes and other project things. By using sophisticated devices, they can better document and organize them and in an easy manner.
Centralize Things Using A Project Management Tool:
A web based project management system keeps all the tasks, files, communication and other pertinent project information at a single centralized location. So these can be readily accessed from any location and any device like mobile, desktop or laptop. Team members remain at same page over a project. They are able to access the same and updated information.
Project management tool offers many benefits which facilitate smoother management in projects.
Team members become more creative and innovative. They can share ideas that can be developed into great solutions.
Tasks get better described and properly assigned to team members. Their status can be precisely tracked.
Time spent in tasks' execution can be documented and tracked. It ensures productive utilization of projects' time.
Team members can communicate in a fast and effortless manner in real time. Online meetings can be arranged involving them where they can discuss and brainstorm over matters.
Progress made in projects can be precisely measured through Gantt charts.
Calendar facilitates tracking of tasks, events and milestones in a project.
Documents can be properly organized through files and folders and shared among team members.
Reports give a true picture of projects, so enhanced planning can be done in them.
Project data remains safe and secure from any unauthorized access.
Enhanced organization and systematic management can be done in projects with a project management tool. So chances of success in projects significantly increase.