The things that you can expect to never change in this world are death and taxes. Everything else goes through a constant forward motion of change—and marketing is not exempted in this. Think back to the olden days, a barker goes around town to promote a product or an event. With the advent of print media, marketing took on steadier footing while reaching a wider audience.
As times changed, so did the methods of marketing. People weren't content with printed advertisements in periodicals and publications. With the invention of the radio and television, marketing execs soon took advantage of these media formats that reached millions in a very quick manner. But these marketing strategies proved to be very costly.

The High Cost Of Marketing:
For a brand to market in three media formats—print, radio and TV, their marketing budget would cost a couple millions of dollars. Some companies have marketing budgets as high as a hundred million. This placed the small business at a disadvantage. Good thing the internet and social media was invented.
The Rise Of Social Media As A Marketing Tool:
Social Media became a viable tool for marketing because it reaches a very wide demographic in a manner that's even faster than radio and TV. And the best thing about it is that it's free. You don't have to spend a cent when marketing on social media sites. And with these online sites, small business owners, together with the big-market brands, are competing on a level playing field.
How can small businesses compete with the big marketing boys? They just have to follow 7 simple practices when marketing on social media sites.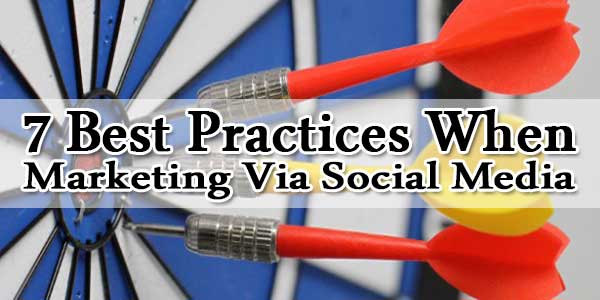 Here Are 7 Social Media Strategies To Try:
1.) Post A Lot Of Pictures:
Pictures paint a thousand words, and this is very true in social media. A single picture is a more powerful marketing tool than a 100-word product description. Post pictures of your: products, services, product and service endorsers, events, loyal customers, or any other picture you think is relevant.
People like looking at photos more than reading. That's why print ads are more visual these days. You get a huge splash-photo with very few texts. Follow the same principle and your marketing strategies should click.
2.) Call For Action:
A picture can actually serve as a stand-alone marketing tool. But it becomes more powerful when there's a caption with a clear call to action. A "call to action" is what you want your customers to do after viewing your ad. It should contain action buzzwords that will entice prospective customers to purchase. Good examples of "call to action" phrases are "buy now while supplies last" or "contact us now".
3.) Social Proof:
Collect positive feedback and post these in social media. The feedback you get from customers will serve as your proof that your product or service is top quality. Your brand's image improves when people read praises about it. Take note that it has to be from people who are not connected with your organization. Social proof only works when customers read comments from people they know couldn't profit from their positive feedback.
4.) Respond:
You have to thank anyone who sends in a positive feedback. This will give you an image that you do indeed care for your customers. The best way for you to break the gap between you and your patrons will be through responding to not only positive feedback, but all correspondences (questions, concerns, and even negative feedback).
5.) Don't Bash The Competition:
Don't do this in social media because it radiates an unprofessional image. Also, bashing the competition will cause people to think you're up to no good, or that you're defensive about something. Cultivate an image of class and professionalism; make sure to never criticize your competitors.
6.) Stay Focused And Consistent:
Market one brand at a time. You should keep your focus because that's the only way you can keep your customers' focus. Remember that people's attention spans are very short. If your marketing strategies are all over the place, there's a good chance people will lose interest in you.
Remember to be consistent as well. Create a workable schedule for your posts. Your customers expect to be updated from time to time. You'll also lose your customers' interest when your marketing strategies are done intermittently.
7.) Share The Love:
It shouldn't be always about you or your brand. When marketing, make sure to share the love by posting other relevant stuff that will interest your customers. Share links of articles, photos or videos that are related with your product or service and your customers will thank you for it.
That's how you market via social media. Start marketing now by following these seven simple steps.
About the Author:
Marc Sullivan is an all around blogger who loves taking pictures! He's an avid user of Instagram and he even uses it on his PC. Want to know how he does it? Ask him on his social networks.