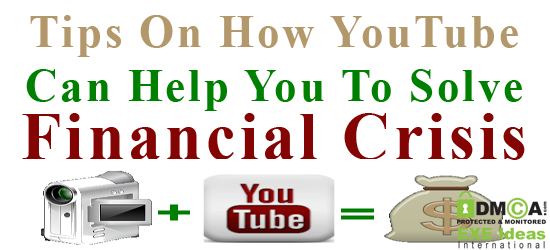 The World Wide Web has now been a consistent source of income for many people. It is because there are so many ways for one to make money online and anyone can easily start working on it. Most people are now earning money with YouTube, by freelancing or even with the use of your blog. Start making money online by following these tips.

1.) Create Your Adsense Account:
You can easily do this by signing up online. Though displaying ads on your Youtube account is a different one, the money that you'll generate with go hand in hand with your AdSense account. You can actually become a Youtube partner even if you still don't have an AdSense account but it is really advised to create one soon after that or it would be best if you create your AdSense first before you sign up to be a Youtube partner.
2.) Audience:
Anyone who has experience in working online will agree that audience or traffic is what makes up the money that they earn. If you are determined to work online, but you really have to earn a lot of followers or audience for you to get started in Youtube. Though the company doesn't give out specific requirements, it has been said that you have to have at least a thousand subscribers, at least a thousand view on your videos and at least 10,000 channel views to pass the criteria. This however is just a minimum; if you really want to make sure that the site will accept you, you have to try to get 5,000 subscribers or more.
3.) Update Regularly:
If you want to get higher chances of getting accepted, you must make sure that you update videos regularly. Youtube is looking for people who will work with them for long period of time, not someone who will just upload a video or two only when they feel like it. If you can upload a video every day, your chance of getting accepted will be higher than someone who just uploads once a week. It would also be better if you make sure that you have at least a hundred videos uploaded before you apply to become a partner. Some people think that 50 videos are enough but then again, it wouldn't hurt to show that you have more to offer.
4.) Personal Branding:
This part is actually not that important but it will really help you build your identity. Once you get pass the criteria, the next thing you have to focus on doing are the ones that will help you improve or better yourself as a Youtube partner. If you make yourself look professional, the better and the higher chances you'll get. What you can do to develop your own identity is to create your own website for all of your videos, make your audience interact with you or your site, get yourself your own logo so that others will easily remember you. You may also put a watermark on all of your videos. Do whatever it takes to make your videos look professional; you can even hire someone to do that for you.
5.) Original and Unique Stuffs:
A very important factor for you to become a partner is your ability to produce original materials. Copying someone else's work will only get you rejected so make sure that all of the photos, videos, clips, audio, graphics etc. are unique. Always ask permission first before adding it on your site.
6.) Apply for Partnership:
If you are now confident with the things mentioned above, you can now apply to become a partner of Youtube and you can do that in the official Youtube partner Program page. Be patient as this may take quite some time because of the numerous applications worldwide. As soon as you get accepted, you can now easily post ads on you videos and generate more money.
About the Author:
Joy Mali is an active blogger who is fond of sharing interesting finance management tips to encourage people to manage their personal finances. More specifically, she advocates that people should
check credit report and score
regularly.