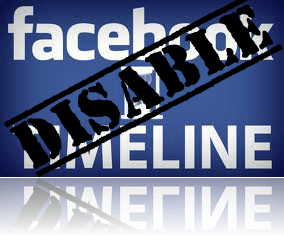 Some Facebook users doesn't like how the new Facebook timeline works, One mainly reason of it—they don't know how to use it, and the worst part of it "You don't have any choice" . So, it's time to learn how the new Facebook timeline works . If you're a Facebook newbie you may be also struggling with this kind of problem. That is why some browsers like Mozilla and Google chrome offers an extension that disable your Facebook timeline.
CHROME USERS THIS ONE IS FOR YOU. "TIMELINE REMOVER EXTENSION"
DESCRIPTION : This extension disables only the display of the new Facebook timeline. This does not mean that your friends will not see your timeline. You can disable the new profile for all and go back.

How To Remove The TimeLine?
1.) Go to your Chrome Browser.
2.) Find the wrench Tool (at the top right side)
3.) Go to tools and click Extensions.
4.) Scroll down to the page and find "Get More Extensions".
5.) And search for "TimelineRemover"
6.) Install the extension, restart your browser and see it working perfectly.
Or
1.) Go to this link: TIMELINE REMOVER EXTENSION and follow there instruction.
Before Using This Trick
After Using This Trick
Note: This is a Trick, only u cant see the timeline! But others can see your timeline. It is not official Disabling. If you need to option to disable official by Facebook, Better send mail to MARK Zuckerberg regarding this issue. I know you can't, So better read below if you need to know the trick to disable the timeline in your browser.
About the Author:
Aspiring Blogger and a Web Enthusiast. Blogging since 2011 and love exploring new things on the web. Primary interest Blogger Tricks and Photoshop thingy.