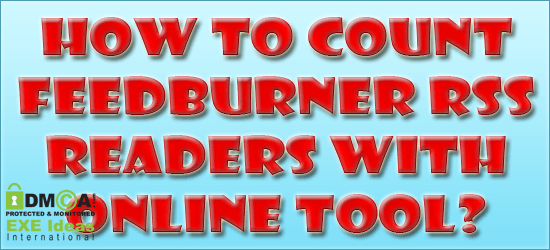 If a site is syndicating its RSS feed via FeedBurner and have made the stats public, you can easily determine the number of RSS subscribers of their feed using the FeedBurner Official Chicklet. And if you are using FeedBurer for syndicating your blog's articles with peoples, then you have a view on there count that will tell you about your ranking and work, if you have a good numbers that's means your are posting awesome and others wants your article in there boundries.

The RSS subscriber count gives you an idea of the number of unique users who may have subscribed to the RSS feed of a particular website or a blog. People may subscribe to a RSS feed in different ways — they may use an online RSS reader (like Google Reader or Netvibes), an offline reader (like FeedDemon or Reeder), through email newsletters, toolbars or even mail clients like Microsoft Outlook. The RSS subscriber count is an approximate summation of all these numbers.
So for this purpose you must have an eye on your subsvribers on daily basis that it's incresing or decreasing, Now for this purpose you don't have to login to your FeedBurner account to view this count just view the following trick from this you can count you RSS Subscriber easily, quick and perfect by official widget. It's not a third party widget or code, feel free to use and share.
Features:
1.) It Will Give You The Exacy No Of Your RSS Susscribers.
2.) It Is Officaly FeedBurner Tool.
3.) Count You RSS Subscriber With One Click.
4.) Two Way To Find Count.
5.) Online Working Tool.
How To Find FeedBurner UserName?
Youi Have A FeedBurner URl Some This Like It "http://feeds.feedburner.com/EXEIdeas" So The End Word Like "EXEIdeas" s Your FeedBurner UserName, Just Use It Below To Count Your Feed.
How To Find RSS Count Manually?
1.) Copy The Below Code And Paste It To New Browser Tab.
http://feeds.feedburner.com/~fc/EXEIdeas
2.) Change
EXEIdeas
With Your FeedBurnerName
3.) Click Enter, And See The Count.
Click Here For Eample
.
How To Find RSS Count With Online Tool?
1.) Change EXEIdeas With Your Your FeedBurnerName.
2.) Click "Count My Feed Subscribers", And See The Count.