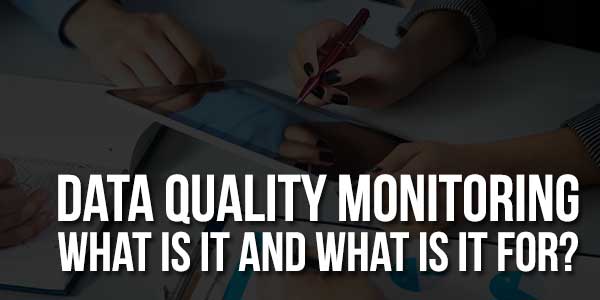 Data quality is defined by the ability to meet the expectations of data consumers and how well it represents the concepts it is created to represent. Organizations should document their data requirements and articulate expectations of their data quality that requires monitoring. Data quality monitoring involves that the data utilized in your organization is complete, accurate, reliable, and consistent. By implementing a data management system and automated data quality, you can accurately and consistently monitor your organizational metrics and identify errors that might hinder the data set from serving its intended purpose. Lack of a data quality monitoring system in an organization is associated with operational snafus, uninformed business decisions and strategies, and inaccurate analytics.
Metrics Of Data Quality That Requires Monitoring:
Data accuracy is an important standard of data quality framework as it defines usability. Inaccurate data often results from poor data entry practices, ignoring data quality, and poor regulation of data accessibility, and can disrupt processes in your organization and hinder operational efficiency. Data quality monitoring can help identify inaccurate data to ensure accurate data analytics.
Completeness:
Completeness as a dimension of data quality refers to the proportion of present data against the potential "100% complete". The absence of gaps in your data set eliminates the possibility of getting inaccurate insights from it. In addition, missing data can translate to considerable losses in leads and prospects in the corporate world. Through data quality monitoring, you can identify the missing entries and measure the degree of completeness.
Consistency:
Consistency in data quality ensures that analytics correctly capture data across various records. Establishing consistency can be challenging unless you have a data monitoring system that performs routine testing across multiple data sets. Data consistency is closely related to data accuracy; hence, ensuring consistency helps in ensuring that your data quality is high.
Validity:
Validity refers to the degree to which a data set meets certain qualities, such as value size, format, and acceptable values for enumerations. Visual identification of invalid data is not usually easy but it might become so through exploratory statistical analysis, which is part of the data quality monitoring process. Data quality monitoring focuses on investing trends, relationships with quantitative data, and establishing patterns to identify invalid data.
Uniqueness:
Ensuring uniqueness in data quality by measuring data against all records helps eliminate overlapping and duplication, resulting in more accurate data analysis. In addition, maintaining uniqueness in a data set improves data governance and accelerates compliance. An automated data quality monitoring system can effectively detect overlapping and duplication in your data set because of the standardized data formats.
Data quality monitoring is crucial for maintaining high-scoring data sets that businesses can use to avoid operational problems, make well-informed decisions, and conduct accurate analytics. The need for data quality monitoring is emphasized for large organizations handling high data volume from different sources. A data quality monitoring system will focus on achieving these important data quality metrics.